Nottingham firm sets new world record with World Cup pitch
Nottingham-based pitch specialists SIS Pitches have helped to set a new world record in returfing the football pitch at Qatar's Khalifa International Stadium.
An impressive 7,885 sq m of turf was installed in just 13.5 hours, which took over 30 minutes off the previous world record, also set by SIS Pitches in 2014, at the Amsterdam Arena.
Marking the first project completed ahead of the FIFA 2022 World Cup in Qatar, the work has been carried out alongside local Qatar partners Al Nakheel, who provided support staff and equipment.
SIS Pitches has continued its presence on the world stage after already announcing deals to complete work at six of the twelve stadiums to be used at the FIFA 2018 World Cup in Russia.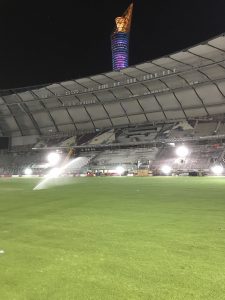 The Khalifa International Stadium is set to be opened today, when players will take to the new turf for the first time in the newly renovated 40,000+ seater stadium.
David Ball, SIS Pitches' Middle-East managing director, said: "On the back of some great projects at the 2018 World Cup Russia, it is great for us to be at the forefront of plans for the next FIFA tournament.
"The FIFA World Cup in Qatar 2022 is the first to be held in the Middle East and we are delighted to be associated with another big sporting event."
"We are proud to have beaten our own world record, and whilst we look to complete our work efficiently, our passion for performance, quality and consistency is what we always strive for."