East Mids retail park reports 13th consecutive year of growth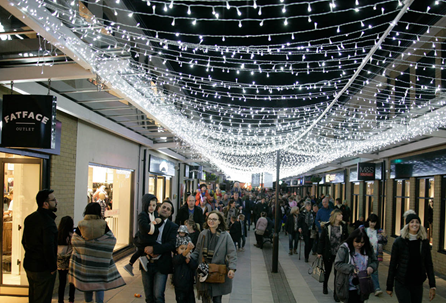 Operator and asset manager SLR Outlets has announced that Springfields, the Spalding, Lincolnshire, retail and leisure destination has achieved 13 years of turnover growth since its opening, following a record breaking 2017.
SLR is reporting "bumper" trading over Christmas. The firm says success comes on the back of 12 months of strengthening the Springfields offer, with the introduction of major new brands Betty Barclay, Café Nero and Raging Bull, joining Next Outlet, Fat Face, Ernest Jones the Outlet Collection and Starbucks which opened in 2016. In addition, over ten existing leases have been renewed encompassing major store refits and fascia refreshes. Key renewals during 2017 included Radley London, Weird Fish and Hallmark.
SLR says it anticipates further footfall and turnover growth for Springfields in 2018 having secured planning permission for a new £1m leisure development. This will include the UK's largest JCB Young Driver's Zone, Tree Top Hobbit-style Village, covered beach, new Mini Golf, Gold Panning and American Diner, which will boost the family appeal of Springfields.
Ian Sanderson of SLR Outlets said: "2017 has seen us build upon the exceptional growth experienced during 2016. To secure 13 years of consecutive turnover growth is something that we're extremely proud of.
"Trading during the Christmas school holidays has been brisk exceeding last year by over 4% with more than two-thirds of our stores trading positively on the same period last year.
"This year's success is testament to the quality retail brands and unique leisure offering at Springfields. And we are constantly striving to enhance the centre at every opportunity. With more high-quality brands on the horizon, introduction of tech based initiatives and our £1 million leisure investment about to commence, we are anticipating significantly strengthening footfall and turnover growth in 2018."