TheBusinessDesk.com launches Appointments section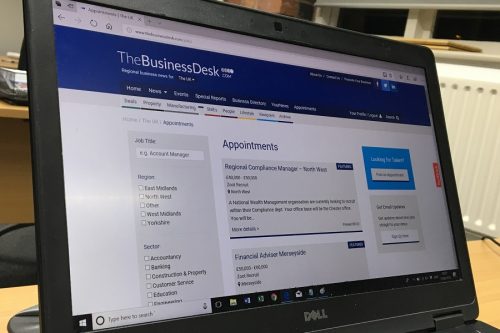 TheBusinessDesk.com is today launching its appointments section for executives and professionals.
Richard Tranmer, who has more than 25 years' experience in recruitment, will lead TheBusinesDesk.com Appointments.
The executive appointments service will benefit from the site's growing audience, with 200,000 unique users visiting TheBusinessDesk.com each month.
Lee-J Walker, joint managing director of TheBusinessDesk.com, said: "We believe that, very quickly, TheBusinessDesk.com Appointments will not only become the 'go to' website for people who are actively seeking senior roles but will also become a premier browsing experience for those individuals who like to keep a lookout for career opportunities – the passive job seekers who are usually only approached by head-hunters."
For recruiters, advertising a senior role with TheBusinessDesk.com Appointments will ensure that the vacancy is delivered to and read by thousands of business-minded individuals all in the relevant region of the UK.
TheBusinessDesk's strength is its audience and this includes C-suite executives, directors and senior professionals within financial services, legal, manufacturing, public sector, marketing and many more.
To find out more visit http://www.thebusinessdesk.com/jobs/ or contact Richard directly on appointments@thebusinessdesk.com or 07808 093101‬.