Derby manufacturer to break into new markets after £150,000 investment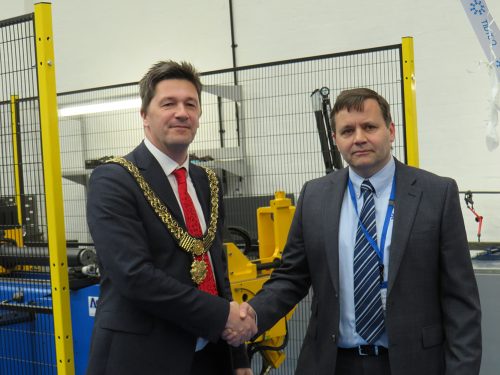 Derby-based Tidyco, the supplier of hydraulic and pneumatic products to the UK rail industry has spent £150,000 on tube bending machinery in a move it says will open up new markets.
The CNC tube bending machine includes a programmable robotic measuring arm coupled with machine to machine (M2M) technology. The firm says the spend will allow it to "rationalise outsourcing activity so as to provide cost effective solutions to its client portfolio".
Mayor of Derby, John Whitby officially opened the manufacturing plant expansion at a ceremony held on Monday 9th April 2018.
Phil Mason, production director for Tidyco, said: "As a business, Tidyco is committed to a long-term growth strategy whereby continuing investment in additional manufacturing equipment forms part of overall critical success factors. The addition of a tube bending facility will enable the company to supply customers with products in a much faster and cost effective manner whilst empowering improved quality control procedures.
"The investment further bolsters opportunities regarding new market penetration."