Green light for 95,000 sq ft of employment space in Lincolnshire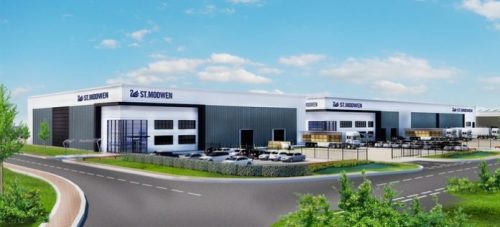 St Modwen has secured planning permission for its first phase development of new warehouse and manufacturing space at its Network 46 employment scheme in Lincolnshire.
North Kesteven District Council has approved the application for the first phase of development of two buildings of more than 95,000 sq ft in total.
St Modwen owns more than 30 acres of industrial land in Lincoln, and was responsible for delivering the 135,000 sq ft facility for Siemens at Teal Park. It bought the remaining 57 acres of development land at Network 46 in 2017.
Rob Richardson, development manager at St. Modwen, said: "The granting of planning consent for our first two buildings at Network 46 is an important step towards the delivery of much needed new employment space in Lincolnshire. The Business Park is already home to Apogee, Turbine Efficiency, DPD and UK Mail and the proven location and our track record of delivery is already attracting good interest."
Andy McDonough, head of development, Economic and Cultural Services at NKDC, said: "Network 46 is one of three strategic employment sites within North Kesteven and we are delighted to be working with a company of the stature of St Modwen to see this site come forward. Development of units of this size will show the confidence that both St. Modwen and the Council have in Network 46 as a location for attracting new and inward investment."
Lincoln-based Banks Long is marketing the scheme with Cushman & Wakefield. The firm's William Wall said: "We invested time to ensure these two buildings of 31,905 sq ft and 63,655 sq ft are designed to suit the needs of the modern industrial occupier and they will appeal to both the logistics and manufacturing sectors. Added to this, the availability of good power, great connectivity and quick access on the A46 and wider road network, means we are confident the buildings will soon be occupied once completed."
St. Modwen will now start construction on the building, which will be ready by the end of the year.
Gemma Constantinou of joint agents Cushman & Wakefield said: "The region has not seen development of these sizes of unit for quite some time so the level of interest we are already receiving is very encouraging."