On the move: the latest East Midlands hires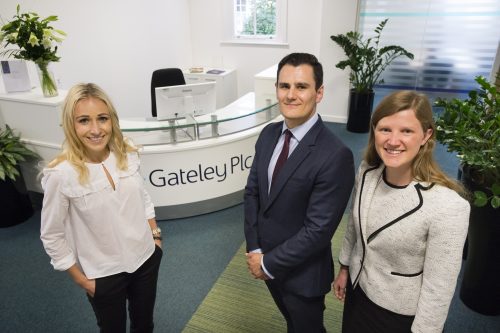 Law firm Gateley has announced the promotion of five lawyers across its East Midlands offices.
The promotions are in its corporate, banking & finance, residential development, real estate and commercial dispute resolution teams.
Steven Plummer (residential development) has been made partner and Claire Herbert (commercial dispute resolution) has been promoted to legal director.
Beth Mather (corporate) has been made senior associate and Megan Kirby (banking & finance) and Alexander Parkes (real estate) have been promoted to associate.
Michael Ward, chief executive of Gateley, said: "After another busy year, I am delighted to announce that five lawyers have been promoted across our East Midlands offices. Every individual has contributed to the growth of the business and their promotions are very much deserved."
Lincolnshire law firm Ringrose Law has promoted 16 people.
Six members of staff have been promoted to associate, including the firm's head of IT, head of HR, marketing manager and head of accounts; and ten members of staff have been promoted to senior associate from various departments within the firm.
Richard Teare, newly promoted senior associate and solicitor for the Personal Injury team, joined the firm in the autumn of 2014. He said: "To be recognised in this way by Ringrose Law, one of the largest and most well-respected firms within Lincolnshire, is a great feeling for me personally. To see my colleagues similarly rewarded for their hard work gives me great confidence for the future."
Paul Cooper, senior and managing partner at the firm, said: "All these staff members have each made a significant contribution to the firm and thoroughly deserve their career advancements .The firm acknowledges these are in recognition of and testament to, their hard work and dedication. We are committed to developing and investing in all our staff and recognise their achievements within the firm. The fact that we have rewarded our HR, IT, marketing and accounts staff is innovative and indicative of our appreciation of our non-lawyers within the organisation as well."