Derbyshire lubricants firm lands £250,000 loan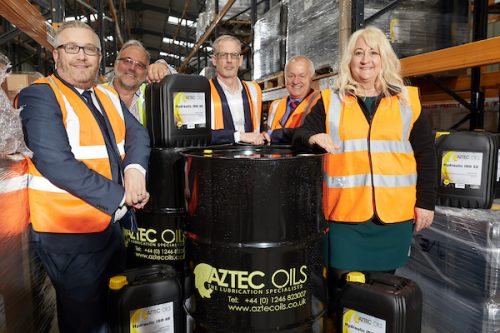 A Derbyshire industrial lubricants specialist has landed a £250,000 loan from NPIF-Mercia Debt Finance.
Aztec Oils says it will use the money to fund the first stage of its three-year £1.2m expansion project which will increase storage capacity and turnaround times at its Bolsover site. The company, which manufactures and distributes high-performance lubricants, is targeting 20% growth in the current financial year, having increased turnover by 18% last year.
Aztec was established in 1995 by Mark Lord and initially operated from a shed on the Bolsover site. The company has grown steadily and made a number of acquisitions in recent years including Midlands-based Oiline in 2010, Northern Oils in Scotland in 2016, and Netherlands-based OWT Services BV earlier this year. It has also been successful in developing new export markets, with recent sales to countries including Pakistan, Iraq, Ghana and Ukraine. The company now employs around 85 staff.
Lord said: "Our focus on quality has made Aztec Oils one of the leading manufacturers and distributors in the UK lubricant industry. We are constantly researching new developments to remain at the forefront of technology. The new facilities will allow us to stock a huge range of products and process orders in less than two days, securing our position as the provider of choice in the industry."
NPIF-Mercia Debt Finance is managed by Mercia Fund Managers and is part of the Northern Powerhouse Investment Fund.
Peter Sorsby, investment manager with Mercia Fund Managers, said: "Aztec Oils' innovative approach and its technical expertise has allowed it to buck the trend within the industry and achieve sustained growth. This funding package will allow it to complete the expansion of its Bolsover site so it can offer an even better service to its clients."
John Warner, managing partner of BHP Chartered Accountants, provided fundraising advice to the company, while Paul Harries of Barclays Corporate provided general banking and additional funding support.