Manufacturers need industrial strategy that works for them, say business leaders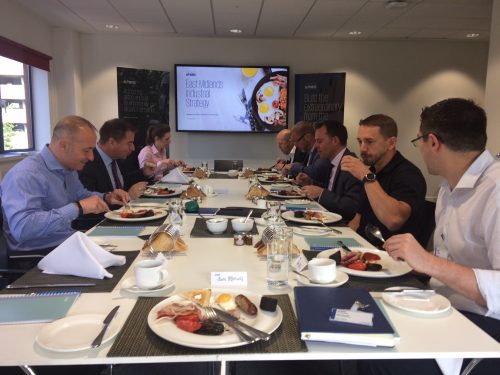 The East Midlands should have a reputation for excellence in manufacturing, but it needs an industrial stategy that "isn't flying at 30,000 feet", according to one regional business leader.
Speaking at TheBusninessDesk.com round table event focusing on manufacturing in the region, Ian Borley, East Midlands senior partner, said businesses in the area need to come together.
"The East Midlands still needs companies who make stuff, quite simply," he said. "We should have a reputation for leading the way in manufacturing. The sector has many opportunities, but also many challenges – for example, the proposed industrial strategy seems to fly at 30,000 feet, when it really needs to be more granular."
Borley also said that there are concerns around the Midlands Engine project being dominated by the West Midlands.
He added: "We need to address this, and local politicians and the LEPs need to get their act together so that the East Midlands speaks with one voice and we can start to bring the big ticket investments to the region that we all want to see."
Nick Harrison, partner and supply chains & operations lead at KPMG in the Midlands, said: "Does the East Midlands have a credible industrial strategy? In short: no. Businesses in the sector don't have any detail and don't seem to know which path the strategy will take. The biggest challenge at the moment is how the government implements that strategy and how it is cascaded down to businesses in the manufacturing sector to inform them."
For Paul Bennell, the managing director of Samworth Brothers Supply Chain, there is an identity crisis in the region. He said: "The East Midlands struggles to define its own identity. However, its location is something that it definitely wins on. That's always been a benefit for our business, and a central location for us is essential as we source as much from the UK as possible."
The full panel for the event was:
Paul Bennell, Samworth Brothers Supply Chain
Sam Kirk, J-Flex
Darren Joint, Viking Signs
Megan Ronayne, EEF
Adam Cooper, Pattonair
Jonathan Lowe, Maven Capital Partners
Steve Digva, Road Angel
Ian Borley, KPMG
Nick Harrison, KPMG
A full report from the round table will appear on TheBusinessDesk.com on Monday 18 June.