Nottingham businesswoman aiming for swift rise with maternity brand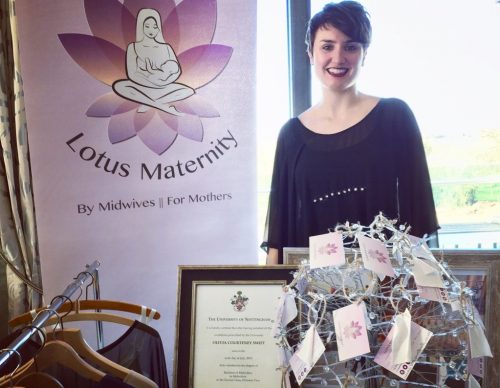 A Nottingham entrepreneur has told TheBusinessDesk.com she wants to take her fledgling maternity brand to the international market within two years.
Olivia Swift started Lotus Maternity by designing a range of nursing tops which allow women to feel at ease whilst breastfeeding in public.
Now, she wants to expand the company's range and break into the export market by 2020.
Swift set up Lotus Maternity after leaving a career in midwifery last September.
"It was a case of 'now or never', definitely," she said. "I enjoyed my career as a midwife, but I was clear that I didn't want to do it forever. Starting my own business has given me the flexibility to get out into the community and extend my network of contacts."
Swift is celebrating the success of winning £3,000 in funding from a Dragons' Den style event, organised by Nottinghamshire Community Foundation.
The cheque presentation at The Nottingham's headquarters in Fulforth Street was the follow-up to the pitching event that was held at Nottingham Business School in April and saw eight shortlisted entrepreneurs pitch their ideas to a panel of judges made up of leading business leaders including David Marlow (The Nottingham Building Society), Martin Collins(White Label Resources), Melanie Currie (Nottingham Business School), Beverley Parr (B&J Parr) and Kevin Shakesheff (University of Nottingham).
Swift now wants to use the cash to add baby blankets made from bamboo to the Lotus Maternity range, which, like her breastfeeding tops, are made at a factory in Sneinton in Nottingham
"I need to move to the next level now – and to make the brand heard and known. In two years' time I'd like Lotus Maternity to be a well-established brand in the UK and then look to the international market – that's my aim. I have lots of ideas for new products, but first I need to make the breastfeeding tops successful – that's what I'll be using the money from the Dragons' Den competition for."
She added: "I've worked very hard to get the brand off the ground. I've got so many ideas for new products, and so the next two years should be very exciting.