Partner promotions at Deloitte in Nottingham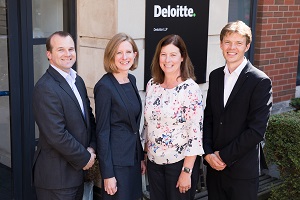 The Nottingham office of accountancy giant Deloitte has two partner promotions in its Nottingham office, covering audit and assurance and tax.
The Nottingham office has also seen the promotion of one new director.
Deloitte Nottingham's new partners are Joanna Waring (audit and assurance) and Rhys Cartledge (tax). They are joined by Rachel Jackson who has been promoted to director (also in audit and assurance).
Alistair Pritchard, office senior partner for Deloitte Nottingham, said: "Investing in and nurturing talent is key to the success of Deloitte and I am delighted to see promotions across two of our key service lines.
"The strength of our business will always be our people, and we are continually growing our team to meet the needs of our clients and to respond to new business challenges.
"A key focus for Deloitte is growing the number of women promoted to partner and director roles and it is great to see both Joanna and Rachel reach significant milestones in their careers."