Huge Nottingham mixed-use scheme set for approval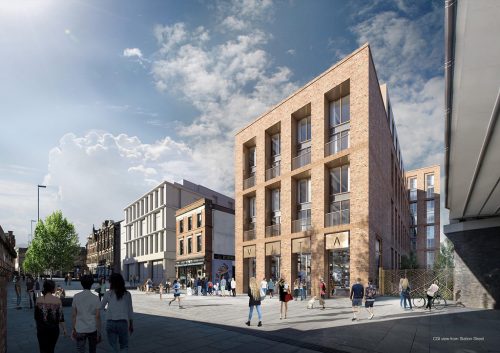 Plans for a huge mixed-use development next to Nottingham's railway station have been recommemded for approval.
In May we revealed that Bildurn had signed an agreement with Vita Group to bring forward the residential element under its Vita Student brand. The development, which has now been tipped for planning approval by Nottingham City Council's planning chief, will house 323 bedrooms over nine storeys.
The development will also include a leisure angle, with a gym and coffee shop, while the nearby railway arches will be transformed for use by independent traders.
Nottingham City Council's Planning Committee is due to meet next Wednesday (18 July) to rubberstamp the scheme.
Construction of the student scheme will start this September, said Sean Akins of Bildurn in May.
Tim Witt, development manager at Vita Group, added: "We're very pleased to be part of this exciting development for Nottingham. Vita Group's ethos is all about our commitment to creating connected communities, innovatively bringing together work, leisure and living. We've done extensive research about this prime location in Nottingham city centre and concluded it fits perfectly with our aspirations as a business to develop trusted and respected communities, bringing vitality and vibrancy to the area."
Bildren is also building 50,000 sq ft of office space on Station Street, which will include car parking and roof terraces.
Agent for the scheme is JLL, whose director James Keeton said: "Securing Vita Group, subject to planning, to bring forward high quality student residential use on the scheme is vitally important in kick starting the wider development. Its Vita Student brand will also compliment the proposed adjacent office use and boost the wider vibrancy of the area."