New images revealed of £22m Waterside development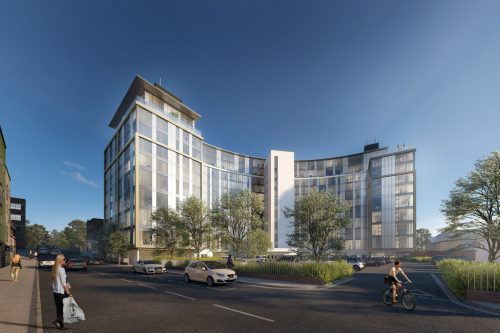 New images have been released of the £22m scheme to redevelop the former Bridgford House and surrounding buildings into a high-spec mixed-use scheme of luxury apartments, offices and three restaurants.
The Waterside, being developed by Monk Estates and Harmony Bridge, is located between the Trent Bridge cricket ground and Nottingham Forest football stadium, in the former Rushcliffe Borough Council buildings. It will offer a mix of one, two and three bed luxury apartments, along with serviced offices for SMEs and restaurants on the ground floor.
The scheme is being designed by Leonard Design.

Last November, Sam Monk, managing director at Monk Estates, said: "Leonard Design has delivered a great vision for the scheme, completely reimagining the building while staying true to its character.
"As expected, the views from the apartments will be fantastic with the river and city beyond providing the perfect backdrop. Each apartment will be finished to a high specification and benefit from a 24-hour concierge service as well as access to a rooftop garden. Not only this but some apartments will also come with their own private external garden, which is very unique in high rise schemes such as this."
Morgan added: "This scheme is incredibly exciting for us, as it's an iconic building in the Midlands which is instantly recognisable in such a prominent position coming from Nottingham city centre and will create a unique waterside development.
"We have made sure to retain and enhance its unique curved shape in our design, whilst also improving the façade on all sides of the building to create a modern and eye-catching look.
"We have meticulously deigned the building so that every apartment benefits from a river view. Reworking the building to meet this brief has been a challenge but we wanted to deliver something exceptional and the high spec luxury development will be just that."