Derby manufacturer makes biggest-ever capital investment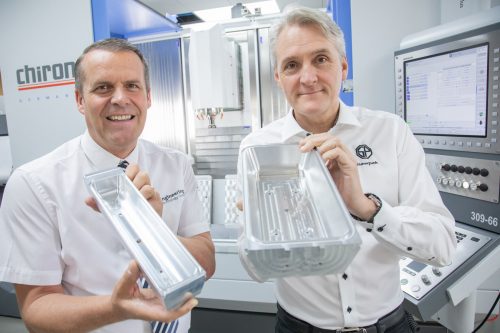 A Derby manufacturer of thermoforming machinery has made its biggest ever capital investment to help it target new business in the food and medical sectors – and create jobs.
Shawpak, which is a division of Derby-based Riverside Medical Packaging, has spent £600,000 with Engineering Technology Group (ETG) on buying a milling machine that will help it almost halve cycle times on customer tools it will produce over the next 12 months.
The new machinery means the company can manufacture up to twenty parts at any one time, with production set to take just 40 hours, instead of the previous 80.
This is a major breakthrough for the firm, who will be now be able to make more tailored machinery for food customers that could generate in excess of £2m of new business over the next 12 months.
Alan Wade, works and engineering director at Shawpak, said: "Demand for our thermoforming technology is growing rapidly, which means we need to manufacture more parts within the same amount of time to keep up with demand.
"Our existing equipment could just about cope, but the time it took to manufacture parts would be so long our lead times may have gone out and we may have missed out on opportunities in the marketplace. That's when we decided to renew our strategic partnership with Engineering Technology Group and ask it to come up with some options."
He continued: "It's our largest-ever single purchase, but one that has the potential to really help us drive forward within the food sector. One contract – to build a machine that seals a double burger pack – has already been won and this wouldn't have been possible with the previous machinery."
ETG regional sales manager Jon Mannion said: "The Chiron 1250 is a fantastic 5-axis machine and it quickly became clear that this was the ideal solution for Shawpak and would allow it to make the most of the opportunities currently available.
"It also underlines how we try to work with customers, it's not just about shifting machine tools to them. We listened, understood and was flexible in our approach, with the installation being completed quickly and efficiently."
He added: "A service and maintenance package has also just been signed, ensuring that the machine will be continually working and operating at its optimum level."
Shawpak says it is expecting orders to treble over the next 18 months after stepping-up the roll-out of its new thermoforming machinery, which has the benefit of a small footprint over traditional alternatives, whilst still delivering the same levels of quality.
Some 20 people have been recruited over the last 18 months in various engineering and design roles, with more staff needed to cope with increased volumes expected to be generated by the desire to double sales year-on-year to clients in the food and medical sectors.