Accountants turn to AI to improve efficiency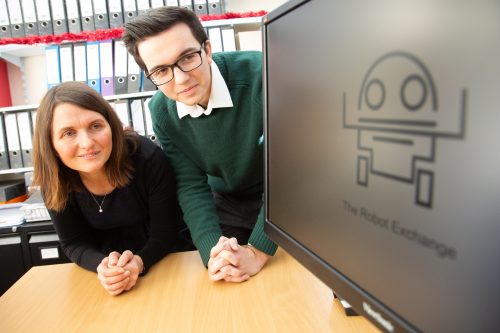 A Nottingham-based accountancy firm has teamed up with a fellow city company to introduce artificial intelligence (AI) to its back office functions.
Turning Point Accountancy Services, located on Highfields Science Park, has partnered with one of its customers, fellow Nottingham company The Robot Exchange, to use artificial intelligence to automate routine office functions. The move makes Turning Point Accountancy Services one of the first such practices in the country to use Robotic Process Automation (RPA).
The Robot Exchange says the deployment of robotic automation will improve accuracy for clients and increase overall efficiency, claiming it has saved nearly £1m for its clients so far. For staff at Turning Point Accountancy Services it means that they have been freed-up to devote their time to high value activities.
The AI project, which has been developed by The Robot Exchange, headquartered on Toll House Hill in the city centre, is an application which will run across all Microsoft office applications and automates the administration and repetitive office work. For example, the robot can take data from an Excel spreadsheet and automatically populate this information into cloud accounting software such as Xero or QuickBooks.
Christopher Salvidge, senior accountant and manager of the project at Turning Point Accountancy Services said: "Technology is a growing part of any modern business and for an accountancy firm it is no different. Accountancy is becoming a more exciting and innovative environment and at Turning Point Accountancy Services we are keen to keep on trend. Robot automation is just the first step in our aim to use technology and AI to streamline our business."
Founder of The Robot Exchange, Andy Wallace, said: "We have developed the robots to be 100% accurate across a range of business processes and, of course, being a robot, they can run at night so that administration can be completed outside of office hours, saving companies valuable time. We see huge potential for Robotic Process Automation in all manner of businesses and our work with Turning Point Accountancy Services is an illustration of how we can enable small and medium sized companies to access this new technology and bring a multitude of benefits to their business."