Lincolnshire companies receive £2m of Midlands Engine cash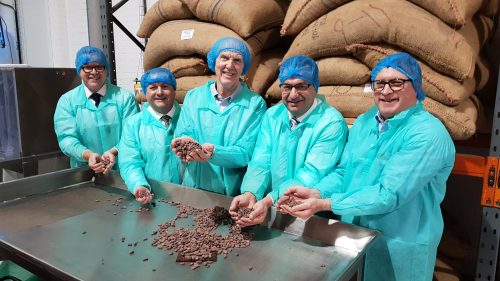 Two Lincolnshire companies have received a total of nearly £2m from the Foresight Group via the Midlands Engine Investment Fund (MEIF).
Foresight has made £950,000 investment into chocolate maker Firetree Chocolate as part of a £1.2m funding round in late January.
Firetree was set up in 2017 as a high-end chocolate manufacturer. It has secured several prominent B2B supply contracts in the 'super premium' chocolate market, as well as two lucrative private label contracts. Firetree says its ambition is to develop its own brand of super premium chocolate.
David Zulman, managing director, Firetree, said: "Firetree Chocolate is delighted to have Foresight come on board at this important phase in its growth cycle. Since the first chocolate poured off the line in early 2018, Firetree has collected an impressive list of B2B customers in both the UK and abroad. The product is well proven and well accepted. Its high quality and exceptional taste, manufactured from rare volcanic cocoa beans in its state of the art artisanal factory, sets it up to be well placed to launch its own consumer super-premium chocolate brand."
As part of the deal, Firetree will be opening an additional office in Stamford, a move which will increase office capacity, and create eight new jobs for the area. The investment from MEIF will be used to expand the sales and marketing team to further boost sales.
Foresight has also completed a £1m investment into YPP Group. YPP was founded by well-known local entrepreneur Stuart Maclaren, and provides a range of print and graphic design services.
Stuart Maclaren, founder and chief executive of YPP Group, said: "We are delighted to receive funds from the MEIF. With the investment and the help and support available from Foresight we are confident we can fulfil our long terms goals for our company.
"Your Print Partner has demonstrated considerable growth over recent years and with our new brand, Custom Gifts, about to launch, we are delighted that Foresight see the potential in YPP and are supporting us on this exciting journey."
The investment from MEIF will be used to launch of YPP's latest subsidiary, Custom Gifts, and to help build brand awareness. YPP is expected to create an additional seven local jobs within the first 12 months following the investment.
Ray Harris, principal, Foresight Group, said: "We are pleased to have been able to deploy this substantial funding into two great businesses in Lincolnshire and understand the impact these investments can have on the local economy such as creating new jobs for the area and attracting talent."