Construction firm appointed on Leicester office scheme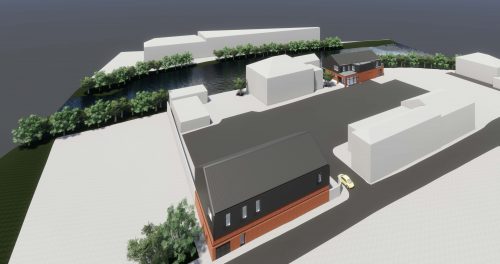 Construction firm Stepnell has been appointed by Leicester-based Brackley Property Developments to build two riverside offices in the city's Waterside Regeneration quarter.
Work is now under way on the £2.1m scheme, which has been designed by Leicester architects Stephen George and Partners.
The new offices – the 5,583 sq ft Riverside building and 4,940 sq ft Fabric building – will be the latest additions to the Friars Mill office park.
Stephen Pedrick-Moyle, managing director, Brackley Property Developments, said: "We are delighted to have secured this exciting development opportunity to provide well designed offices with car parking in the centre of Leicester working with the Nottingham office of Stepnell. We have already sold the waterside building and have interest in the Fabric building which is due for completion in April."
Stepnell regional director Thomas Sewell says: "It's great to be involved in the momentous programme of transformation now under way in Leicester city centre. Our team are thrilled to be working with Brackley Property Developments using their commercial development expertise to create much-needed new employment space at this key site in the city's industrial history. This impressive project will deliver high-quality, architect-designed office accommodation offering a superb range of modern amenities as well as a fantastic location so close to the city centre."