Weekender: Indietracks reveals headline bands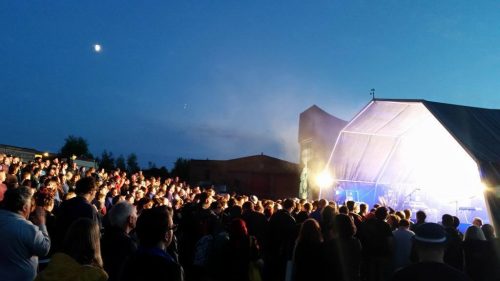 Indietracks, the music festival which takes place at a picturesque 1950s steam railway in Derbyshire, has revealed the headliners for this year's event.
Kero Kero Bonito, The Orielles, Stealing Sheep, Tracyanne & Danny, Bis, Withered Hand, The Spook School, Big Joanie, Adult Mom and Peaness are among 45 artists confirmed today for this year's Indietracks festival.
The festival takes place on the weekend of 26-28 July 2019. It's billed as "a celebration of independent, creative and DIY pop music", with bands playing across the heritage steam railway site, including its main outdoor stage, in a locomotive shed, a tin tabernacle and on the steam trains themselves. Early bird tickets are now available until Sunday 12 May.
The above artists are joined by Holy Now, Young Romance, Mammoth Penguins, Porridge Radio, Strawberry Generation, Randolph's Leap, The Catenary Wires, Molar, Witching Waves, Thud, Seazoo and L I P S.
Plus, the following bands are also joining the bill: Fresh, Jetstream Pony, Child's Pose, The BV's, Cheerbleederz, Kermes, Kagoule, Junk Whale, Athabaska, Songs For Walter, Current Affairs, Kidsmoke, Owls of Now, Foundlings, Solution Hours, Grawl!x, Squiggles, Common Or Garden, Nim Chimpsky, Jacqui and Geoff, JC Quick, Rosehip Teahouse and She's Got Spies.
Several more artists and DJs will be added to the bill shortly.
Tickets are now available at an early bird discount price of £72 (weekend) and £39 (day), excluding booking fees. These cheaper prices are available until 9pm on Sunday 12 May. After this date, prices will be £79 (weekend) and £41 (day). Weekend tickets for children aged 5-17 are £15 for the weekend, or £10 for a day ticket. Children under 5 get in free. Tickets are available by calling the railway directly on 01773 747 674 during office hours or by visiting: http://www.indietracks.co.uk/tickets/