Restoration work set for historic city buildings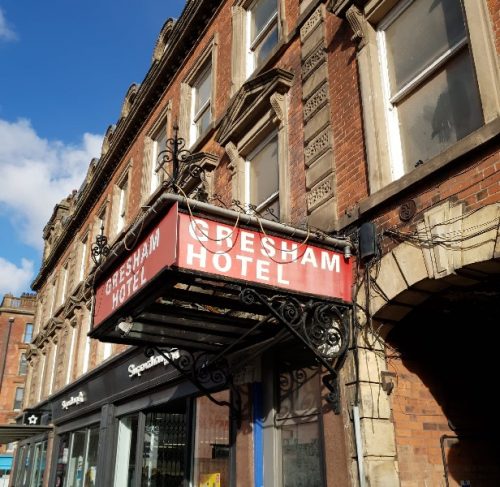 Two historic buildings in Nottingham have been earmarked for restoration with the help of lottery funding.
A grant has been awarded as part of Nottingham City Council's Townscape Heritage Scheme to repair and restore key elements of the former Police Station on 3-9 Station Street and The Gresham Hotel on Carrington Street.
Funding will go towards repairs to the building's frontage on Station Street, which includes the stone entrance while the former Gresham Hotel will see repair works to the stained glass canopy.
In 2016 the Heritage Lottery Fund, now the National Lottery Heritage Fund, awarded £682,400 to Nottingham City Council for the five year Heritage Scheme which provides grants to eligible owners or tenants of a historic buildings in the Carrington Street area, of up to 67% of the costs of building repair or other townscape heritage works.
Since the scheme started, a number of buildings in the Carrington Street area have benefited from the scheme, which include The Barley Twist, The Urban Room at 38 Carrington Street and Hopkinsons on Station Street.
Nottingham City Council's portfolio holder for planning and housing and xhair of the Townscape Heritage Grants Panel, Cllr Linda Woodings, said: "Nottingham is steeped in history and, with help from the National Lottery Heritage Fund, this scheme is helping to transform the Carrington Street area back into the impressive gateway it once was.
"The south side of the city centre is undergoing a major transformation and Carrington Street is one of the first views visitors see when travelling into the city. This scheme is not only helping to improve the look of this busy pedestrian route, but is also helping to preserve and restore some important historical features, which might have been lost otherwise.
"We are proud of Nottingham's past and ambitious for its future and heritage led regeneration is a great way to restore the city's historic character, boost tourism and create jobs."
Jonathan Platt, head of National Lottery Heritage Fund East Midlands, added "Thanks to National Lottery players, Nottingham's main public gateway is being brought back to its former glory.
"We're delighted to support the Carrington Street Area Townscape Heritage Scheme's ambition to put Nottingham's proud heritage at the heart of its future regeneration."