New Hawaiian food bar creates 10 jobs in Nottingham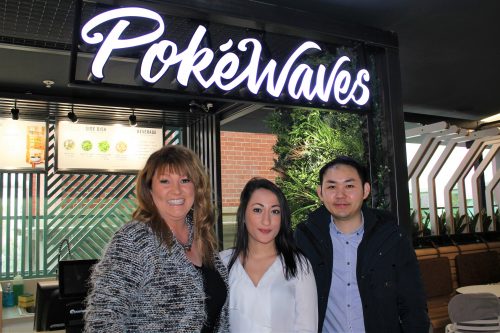 A new restaurant, the first in the East Midlands to serve Hawaian food, has created 10 jobs in Nottingham city centre.
Pokéwaves serves Hawaiian Poké cuisine (pronounced poke-ay) at its venue on the first floor of the intu Victoria Centre's Clock Tower Dining area, and is the first Poké bar with seating in the East Midlands region.
Pokéwaves focuses on using fresh ingredients from local suppliers and its signature cuisine – the Poké bowl, consists of raw marinated fish such as ahi or yellowfin tuna that has been cubed and layered with sticky rice and pickles.
As well as a selection of specially crafted bowl menu options, customers have the option to create bespoke dishes with the 'design your own' option, which includes choosing a base, protein, toppings, sauce and garnish – with a variety of fish, chicken and tofu options available freshly made to order at affordable prices.
Side dishes include miso soup, seaweed salad and salted edamame beans.
Erin Vickers and Alicia Yilmaz at Fraser Brown Solicitors acted on behalf of Pokéwaves Island co-owners Kent Hau and Kelvin Lam, to secure the lease for the new kiosk, which has use of the associated communal mall seating.
Hau said: "Having attended Nottingham Trent University with my business partner Kelvin, we wanted to start a venture here in the city that we love.
"Following eight months of preparation including research, ingredients studies, experiments and food testing we nailed our concept. We chose to set up our first Poké bar in the Nottingham intu Victoria Centre, as the shopping centre is in a prime location with good all-round access to public transport, offices and the universities.
"The current food scene in Nottingham is vibrant and blended and there is a clear demand for innovative, fresh and healthy cuisine here, so we are very excited to be introducing a new type of eating experience to the local community.
"Poké is fresh, healthy, fun and different and we welcome foodies from all walks of life to come and enjoy healthy Hawaiian dishes freshly made to order, to eat in or takeaway. As well as our delicious in-house signature bowls, there is the option to personalise dishes – for a versatile and enjoyable eating experience."