Everton chief executive departs to run Super League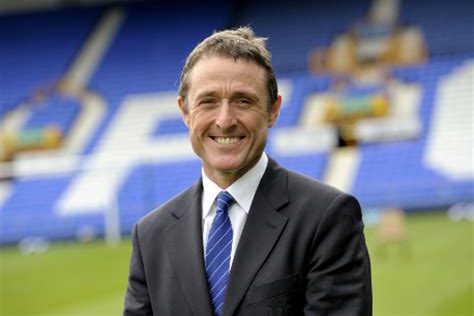 Everton FC's chief executive Robert Elstone has left the Premier League club to run rugby league's Super League competition.
Elstone, who is a lifelong Castleford Tigers fans, has spent 13 years at Everton, who this morning dismissed manager Sam Allardyce, initially as deputy chief executive before replacing Keith Wyness in 2008. He is being replaced at Goodison Park by his deputy, Prof Denise Barrett-Baxendale.
His appointment, which has been confirmed by Everton but not by anyone in rugby league despite it being an open secret for two months, will see him officially take up his role on June 1.
He joins a sport that faces a range of problems, including a poor media profile, limited commercial revenues, stagnant crowds, confused governance, and the overarching problem of how to grow a game that relies on the economic pull of post-industrial towns in the north of England.
Everton's chairman Bill Kenwright said: "Robert has obviously been a passionate Evertonian since the day he first set foot here, but I have always known that his enduring love has been rugby league. And we wish him well in his new role leading his favourite sport."
Elstone has worked in sports administration for two decades. A trained accountant, he has had two spells at Deloitte where he advised sports' governing bodies and clubs. He also worked for BSkyB as a director of football business affairs.
Early in his career he worked as Executive Assistant at the Rugby Football League, alongside chief executive Maurice Lindsay, and later became a director of Castleford Tigers.
Elstone said: "I have enjoyed 13 wonderful years here and feel privileged to have been able to play a significant role in the development of such a great club.
"I have always said I am proud to have been given such an important custodial role and I leave a club with a very clear sense of purpose and identity; one that places its fans 'front and centre' in all its decisions."
Everton have made two other senior changes. Dr Keith Harris has become deputy chairman in place of Jon Woods, who will remain on the Board. Director Alexander Ryazantsev will take an executive role, becoming responsibility for the club's financial and commercial performance.
The club is also widely expected to replace manager Sam Allardyce, who took the club to 8th in the Premier League despite a poor start to the season under former manager Ronald Koeman.