People on the move: Davis Blank Furniss; Howgate Sable; MediaCityUK; Kuits; Steven Hunt & Associates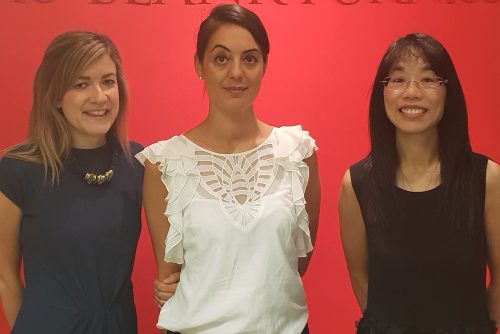 Manchester and Glossop law firm Davis Blank Furniss has made three new appointments across the business.
The first new starter is Amie Tsang who joins as a senior consultant in the property team.
Before arriving at Davis Blank Furniss Amie ran her own successful small practice for 20 years.
She brings with her a very loyal client base which is mainly from the UK and Chinese business community of largely real estate matters with some residential conveyancing and plot sales, as well as business immigration.
Katherine Darbinean is Davis Blank Furniss' newest personal injury and clinical negligence solicitor.
Katherine qualified in December 2014 and joins from Thompsons Solicitors. Her role will cover higher value claims with severe injuries and some clinical negligence work.
Suzanne Thompson has joined the corporate and commercial team as a solicitor.
Suzanne qualified in 2016 and joins from BLM LLP. Her work includes company restructures, shareholders agreements, company sales and acquisitions, commercial contracts and terms and conditions and intellectual property matters.
Kate Oldfield, managing partner at Davis Blank Furniss, said: "We are delighted to welcome these three talented lawyers to the team and I'm sure each will play an integral part in the firm's future growth."
::
Manchester executive search firm Howgate Sable has grown its industry and aviation practices with the appointment of a new associate partner.
Chris Green joins from The Miles Partnership in London, where for three years he sourced high-level candidates for c-suite, non-exec and functional head roles within the firm's industrial practice.
With a particular focus on infrastructure and manufacturing, Chris has placed executives in asset-rich, regulated industries in the UK and across the globe. He has also held a similar role at international search firm Boyden.
At Howgate Sable Chris will join partners Neil Humphreys and Nick Irving in delivering a broad range of mandates for the company's engineering, manufacturing and industry (EMI) division, as well as within aviation, sourcing candidates for some of the world's leading airlines, airports and aviation service businesses.
He said: "Having spent years finding ideal candidates for roles within manufacturing and infrastructure, including transport, construction and oil and gas, I'm looking forward to applying my skills to my new role at Howgate Sable.
"The company has developed an outstanding reputation in the market and its internal culture of collaboration and creativity was everything I was looking for in a workplace. I'm delighted to have joined the team."
Howgate Sable, which also has offices in London, works with a wide range of businesses to source board-level talent across six key practice groups: consumer; aviation; EMI; e-commerce and retail; professional services; and life sciences and healthcare.
Partner Nick Irving said: "Chris has demonstrated his passion for finding candidates who not only fit the bill, but who will continue to add value to clients' businesses long after they've been placed – something that underpins everything we do.
"We're undergoing a significant period of growth, with some really exciting projects in the pipeline, and we're delighted to have Chris on board for the journey."
::
As a wave of new tenants move into MediaCityUK's new and in-demand work space ARRIVE, Holly Young has been appointed as its community manager.
Holly will manage ARRIVE's communal hub area as well as build a network among its occupiers, situated within three floors of White, which span the digital, tech, creative and professional sectors.
She has a background in performing arts and, most latterly, as a dance and fitness coach for the Shooting Stars football academy in Bury.
She said: "My theatre training has very much given me the 'anything is possible' attitude which I'm looking forward to bringing to this unique role.
"I'll be looking to host a series of business, as well as health and wellbeing, networking events at ARRIVE, as well as a number of light-hearted socials to help bring the community together.
"ARRIVE has quickly established its own community ethos and I'm excited at the prospect of helping to strengthen the relationships among the occupiers here and across MediaCityUK as a whole."
The appointment of Holly comes after a busy letting period which has brought a number of new occupiers to ARRIVE, which was launched in February this year, including Lda, ZONEofTECH, Aire Design, Berkeley Rutherford, Tamborine Productions, Blue Projects and Mason Advisory.
Lynn Haime, asset manager for MediaCityUK, said: "We're seeing a really encouraging mix of occupiers moving into ARRIVE, who have either grown organically within MediaCityUK, or extended their UK network to open an office here.
"The arrival of Holly has come at the perfect time for her to support new and existing arrivals and build a network here."
::
A family law expert from Manchester law firm Kuits has been admitted as a member of the UK and Ireland LGBT Family Law Institute.
An association of experienced practising family solicitors and barristers from England and Wales, Scotland, Northern Ireland and the Republic of Ireland, the institute promotes awareness and understanding of the issues faced by LGBT families
The body also takes a number of public-facing actions, including offering submissions to the Law Commission on consultations covering topics such as surrogacy reform as well as changes to the current law surrounding fertility clinics and consent.
Senior associate Michael Gregory, an expert in domestic and international surrogacy and fertility law, will join 32 practising lawyers from the UK and Ireland in discussing a broad agenda of LGBT topics as a member of the institute.
Mr Gregory said: "Becoming a member of the LGBT Family Law Institute is a great privilege and I look forward to using my knowledge and experience to add value to the community the association serves.
"There is a lack of clarity and information available for LGBT families in the UK and Ireland on the processes and pitfalls associated with surrogacy, adoption and IVF.
"I'm keen to leverage my appointment as one of only two members in the North West to drive further discussion on how support and guidance can become more accessible in the region."
Kuits has been working closely with Proud 2 b Parents, a Manchester-based charitable organisation offering support for LGBT families, and have developed an 'Alternative Routes to Parenthood' free event series taking place in October.
Michael, alongside specialist barrister Marisa Allman, will be delivering two seminars focused specifically on donor-conceived children and surrogacy.
::
Liverpool mechanical and electrical engineering consultancy, Steven Hunt & Associates, has appointed project manager Kevin Watts to its growing team, to cap another successful quarter of growth.
He joins the company with vast experience, having recently been at Davies Partnership in Chester in a technical director capacity, following four years managing the building services on a £680m waste-to-energy scheme for Keppel Seggers in Runcorn.
He will join project management team Dave Norcross and Chris Powell and will be responsible for developing client briefs into a coordinated building services strategy.
This appointment comes after a period of accelerated growth which has seen new projects across Liverpool City Region, project work at Liverpool John Moores University's library project, and the University of Liverpool's Cypress Building.
Managing director Steven Hunt said: "Kevin will bring his 40 years experience and a fresh pair of eyes and undoubted knowledge to the company. I am confident that he will be a great mentor for our younger engineers and play a huge role in what looks set to be an exciting year for the company."
Kevin Watts said: "Steve's investment in inspiring the future generation of engineers, as well as his current project portfolio, means my job will be varied and exciting and I am very much looking forward to what the future holds at Steven Hunt & Associates."