Luxury doggy hotel opens for business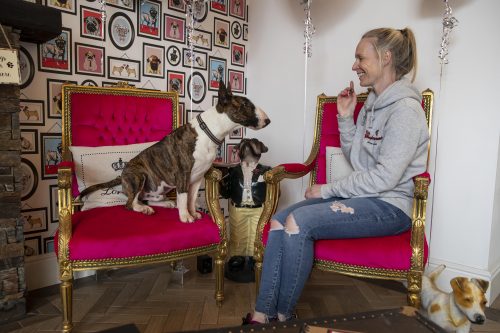 A luxury hotel in Merseyside for dogs has opened for business.
A farm near Crosby has been transformed into a state-of-the-art hotel and resort for dogs after being leased by a property agency.
Angela Byrne, a property developer and canine hydrotherapist, has moved into the 13.5 acre Moor Farm just outside Little Crosby after it was advertised by Fisher German.
The Pawfect Retreat hotel has 25 bedrooms for up to 60 dogs, eight day-boarding rooms for up to 48 dogs, a 24m2 indoor training facility, six paddocks with exercise facilities, and a hi-tech hydrotherapy pool which holds 20,000 litres of water.
The idea of a high-end dog hotel had been a long-held ambition for Angela, who realised that many dog owners wanted to leave their pets somewhere nicer than kennels.
She said: "I have three dogs and nowhere was going to give me the environment I would want for them while I'm away – a home environment.
"I did not want to put my dogs into a sterile concrete environment, and I found a lot of other people felt the same.
"I realised there was a gap in the market, so I looked and looked for properties that fitted the bill."
The Pawfect Retreat is located on the Crosby Estate, whose owners, the Blundell family, were keen to add to the diversity of its business enterprises.
When the site was advertised by Fisher German, there was a flood of interest.
The holding required major investment and a tenant with the vision to take it in a new direction.
The high level of interest led Fisher German to hold a viewing day, with potential tenants needing to provide their business plan within three weeks.
Fisher German's Chester office partner Richard Baker said: "Moor Farm needed significant investment and in view of its location, I recommended that it be advertised on the open market as a long-term letting as it offered potential for a wide variety of uses.
"The Estate was inundated with offers; however, the successful tender from Angela was highly innovative and provided the opportunity for a long-term letting which is sustainable and provides employment for the area."
A 20 -year lease was agreed which includes two clauses; if the estate wants to sell, Angela gets first chance to buy and if she proves to be a good tenant, she will be able to continue for another 20 years.
The training centre at the resort was opened in January, the main part of the hotel and daycare centre in March, and the grooming section in June.
The hydrotherapy pool is set to open in July.
Angela was blown away by the amount of bookings she has already received.
"I never thought it would be this busy – we've been taking bookings every single day. It's a massive compliment to be honest.
"The Pawfect Retreat was years in the making, and my partner and I have put £1 million of our own money into this, so we're so pleased the hotel has fully opened to the public."