Birmingham designs and produces medals for world indoor athletics championships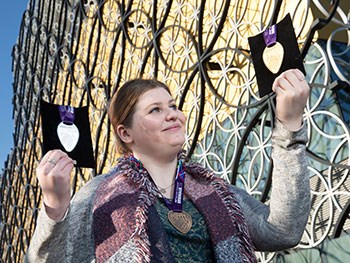 Medals awarded to the winners of events at the IAAF World Indoor Championships, which take place in Birmingham in March, have been designed and produced in the city.
The Local Organising Committee for the championships had challenged students at Birmingham City University's School of Jewellery to design the medals, which are being produced in the city's world famous Jewellery Quarter.
The winning designs (see below) came from second year jewellery and silversmithing student, Menna Jones.
The medal design features three famous city centre buildings, the historic Town Hall, in Victoria Square, and two buildings which have been part of the city's landscape in more recent years – the Selfridges building, and the new Library of Birmingham, Europe's largest public library.
Miss Jones said: "I'm delighted that my design has been chosen and I can't believe some of the world's best athletes will be awarded a medal featuring my work when they come to the city in March.
"I wanted my medal to be a strong reflection of Birmingham and highlight what the city has to offer. I wanted to design a medal that the athletes could link to the city of Birmingham, with its unique, individual features and landmarks.
"My medal will be a memento of the city, allowing the athletes to remember the special time they've experienced here."
Cllr Ian Ward, Leader of Birmingham City Council, who is also chair of the Executive Steering Group for the Championships and was part of the panel who chose the winning medal design, said that as host city it was important to showcase the best of the city's new talent.
"By having the medals designed by our very own School of Jewellery, selecting a design which perfectly reflects the wonderful mix of old and new architecture in the city centre and having the medals made in our world renowned Jewellery Quarter, we are doing just that," he said.
"We love the design that Menna came up with and I would like to congratulate her on being selected as our official medal designer. Menna and the other students at the School of Jewellery have shown what talented young people we have studying here in Birmingham."
Preliminary entries show that nearly 150 countries are planning to send teams to Birmingham for the event, meaning around 500 of the world's best athletes will compete at Arena Birmingham between March 1 and 4, in what will be the biggest indoor sports event to be held in the city for 15 years.
It is also currently the most prestigious event on Birmingham's sporting calendar before the city hosts the Commonwealth Games in 2022.