Ambitions are limitless as Gymshark begins 'globalisation phase'

Gymshark's growth from genuine start-up to £100m annual sales in six years probably makes it the fastest Midlands' company in history to a nine-figure turnover. It won't have many competitors for the UK title either.

That makes its next ambition perfectly understandable: to go global.

It is already international and has sold to 1.2m customers in 177 countries from 11 online stores. It plans to increase that to at least 25 within three years.

"We are going into the globalisation phase of the brand," said chief executive Steve Hewitt, who joined the business three years ago when sales were below £9m.



Today marks the completion of its £4m investment in its new headquarters. GSHQ at Blythe Valley Park gives it the ability to fulfil its plan to double its workforce to 300 this year, while providing the capacity to at least double it again.
"This investment is all about the people and the talent – we asked 'how do we draw someone from Nike?'," he said.

"And we needed a platform to really globalise the brand. We are not in South America, China, Japan, Russia…"

But the clothing retailer, which has operated from Droitwich, Redditch, Bromsgrove and now Solihull, is not going to forget its West Midlands roots.

"Birmingham is where it started, we are not going to move from here", said Hewitt.

It is also bringing its global pop-up shop tour to the city next month, to The Warehouse in Digbeth on May 12 and 13, having been in Los Angeles in January and Melbourne in March.

Hewitt identifies his biggest challenge as getting everyone "to be more local, globally".

He said: "We have got an Australian website and at one point last month the home page had a winter waterproof jacket on it when it was 26 degrees in Melbourne.

"We have to think global but at a local level.

"I could give you 200 examples like the Melbourne one. Globally, Black Friday is the biggest retail event of the year. But it's not in France. We need to learn how they think, and not be UK/US-centric."

The senior team at Gymshark believe GSHQ gives it the platform to attract talent from across Europe, which will ensure it can continue to grow the brand and revenues internationally.

But only if it's profitable growth. Its place on the 2018 Sunday Times BDO Profit Track 100, published on Friday, shows it's got that right, although there seemed to be a note of disappointment when Hewitt confirmed Gymshark's place in the rankings – 46th.

"Growing the top line for vanity is insanity," said Hewitt. "If we are going to grow here, we are going to do it with sustainable growth.

"Because we are D2C [direct to consumer], our fiscal model is really, really strong.

"Our EBITDA [a measure of operating profitability] is particularly strong. We trade about 10 percentage points higher than any other ecommerce business in the UK at the moment."

Currently Gymshark only sells through a single channel, its website (apart from its occasional brand-reinforcing pop-ups) but the potential to grow sales even more rapidly through a multi-channel strategy is a tempting one.

"Do we want to be the brand that understands its customers better than anyone else – and we can only do that if we own the data – or do we want to be a global force like Under Armour?," Hewitt asked rhetorically, before adding: "We have got a fairly important series of meetings in the next 2-3 months."

Gymshark's success has made it attractive to potential investors, but its shares remain tightly controlled by founder Ben Francis, Hewitt and chief strategy officer Paul Richardson.

The company gets around five approaches a month from VCs and private equity, said Hewitt. However at the moment there is little to tempt them into bringing investment on board, while there is a genuinely-held concern that it would lead to a change in culture.

Similarly going public isn't on the cards either.

"We don't have an IPO in mind, we have too many things to do day to day," he said. "Will it happen in the future? Maybe – never say never."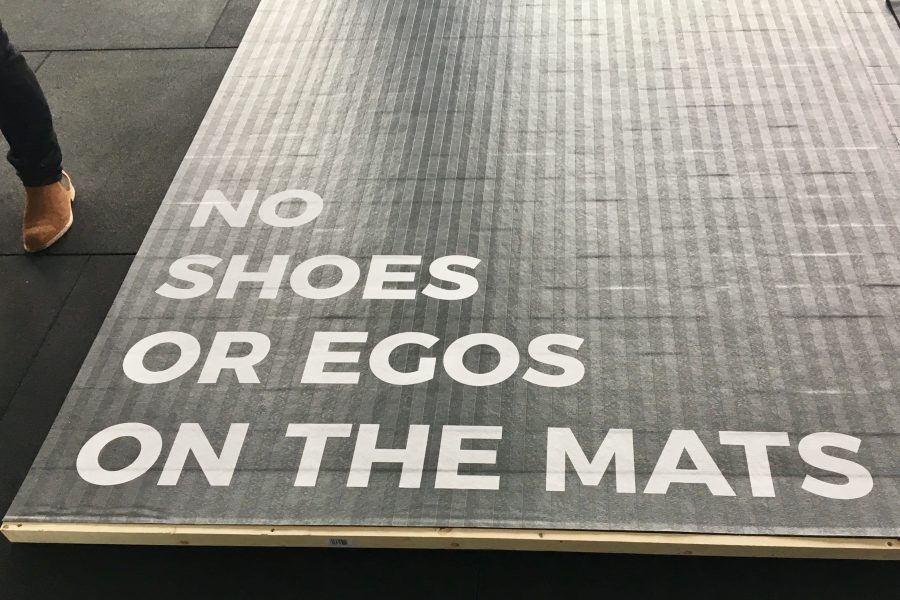 Hewitt summarises Gymshark's successful business approach succinctly, saying "we are brave and smart and that equals disruptive".
The explanation for the success of its products is even shorter.
"Two words: aspirational and affordable," he said. "When your core demographic is 16-25 year olds, price is a really important thing."
He is confident Gymshark's staff will make sure the business continues to know what its customer base wants.
Hewitt said: "The average age of our people is 26, they are thinking like our customers. Our people are our demographic."
Losing touch isn't seen as a problem, but losing hunger is. In the area of the 42,000 sq ft headquarters where Gymshark's C-suite will sit, the motto "work hard stay humble" is written on the wall.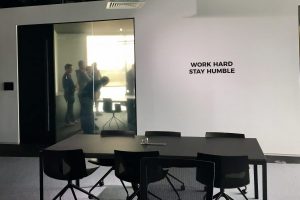 "We launch new leggings and sell 30,000 leggings in three minutes online. The challenge we have is making sure we don't get complacent. Humility is a big word – we have stayed humble.
"It's probably the core part of our DNA. We have a great Instagram following and a great product but if you lose humility your brand will eventually die."
That shouldn't be a problem for the rest of the business, who have a slightly-less prosaic message written on the wall of the main break-out area upstairs.
In letters nearly a foot high, they are warned: "don't be a dickhead".