£165m regeneration project goes to planners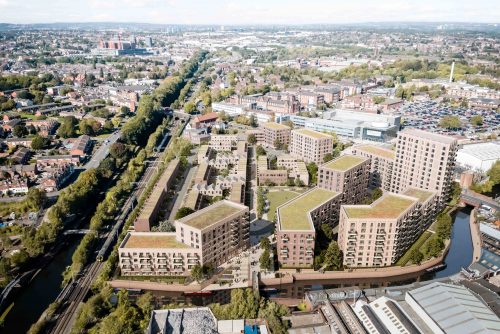 The next phase in the Greater Ickneild Masterplan has moved forward after plans were submitted for 750 homes to be built as part of the £165m Soho Loop scheme.
The Galliard Apsley Partnership scheme is on the opposite side of Birmingham's Main Line Canal to Urban Splash's Port Loop development, which is already on site.
The development sites are close to Birmingham City Hospital and Edgbaston reservoir, and less than a mile from Brindleyplace.
The regeneration of Greater Ickneild is seen as a key place-making opportunity with developers providing a wider range of homes than is typically found within the city centre itself.
The plans for the 11.7-acre Soho Wharf site have 106 two and three-bedroom townhouses and 650 one and two-bedroom apartments, alongside 10,000 sq ft of commercial space.
Stephen Conway, executive chairman of Galliard Homes, said: "Soho Wharf is one of the most exciting regeneration opportunities in Birmingham, transforming what is currently a derelict industrial site, just a short walk along the canal from the city centre, into a thriving residential community and local hub for leisure and lifestyle amenities for the public."
Joint venture partners Galliard Homes and Apsley House Capital are looking to develop five sites in Birmingham, and last week held the ground-breaking ceremony for its Timber Yard scheme in Southside. It is also working on schemes at St Paul's Quarter, Camden Yard and Belgrave Middleway.
Claridge Architects, which worked with the joint venture partnership on its Timber Yard development in Southside, has master-planned and designed the Soho Wharf scheme.
Marcus Claridge, director of Claridge Architects, said: "The previously vacant site is to be unlocked, not only creating quality homes for over 2,000 people but also as a vital centre point for wider regeneration and community integration."
The Soho Wharf site was originally partially occupied by a large glasshouse in the late 18th century and was known as Park Glass House.
The building was constructed by Isaac Hawker, a local glasscutter, to transport his glass products along the canal. The glassworks were demolished in the 1870s and replaced by silverworks.