Property group 'welcomes uncertainty' as it maintains growth

Property group Real Estate Investors (REI) is looking to "welcome these periods of uncertainty" with opportunistic deals after revealing another strong performance.
Strong office occupier demand and rental growth resulted in the Birmingham-based group increasing pre-tax profits by 16% to £7.2m in 2018.
Occupancy reached 96%, up by three percentage points on a year earlier.
Chief executive Paul Bassi expects the business to maintain its momentum regardless of the economic and political challenges.
He said: "In 2019, we expect to continue to prosper from the popularity of Birmingham and the wider Midlands, as the region's economy benefits from the arrival of HS2, Coventry City of Culture 2021 and Commonwealth Games 2022.
"We anticipate seeing off-market opportunities on the back of the current financial and political volatility. We welcome these periods of uncertainty, as they often bring mis-priced assets to the market which, with our local expertise and financial strength, we can move quickly to capitalise on."
REI says it can "currently call on £25m of cash and facilities for opportunistic transactions", with further headroom available if required.
The AIM-listed business has increased its dividend by 14% to 3.56p, for its sixth consecutive annual rise. Despite its consistent growth and progressive dividend policy, last night's closing share price of 49.5p is close to a five-year low.
Real Estate Investors has consistently grown its dividend: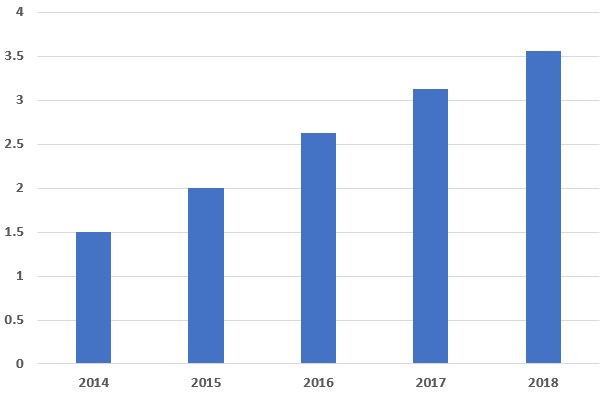 REI invested £15.4m in acquisitions and raised £5.7m from property sales. At the year end the portfolio was valued at £225m, with 52 assets totalling 1.55m sq ft of commercial property space.
Mr Bassi added: "Our portfolio is strategically well positioned across the Midlands region and, despite a highly competitive investment market, we have acquired a variety of high yielding, quality investment assets during the period."
"Overall, the Midlands property market is positive with pockets where it is buoyant. Currently demand is especially strong for out of town areas such as Solihull and the M42 corridor for which vacancy rate has reached a 10-year low. These conditions suit REI as they require local knowledge with which to flourish."