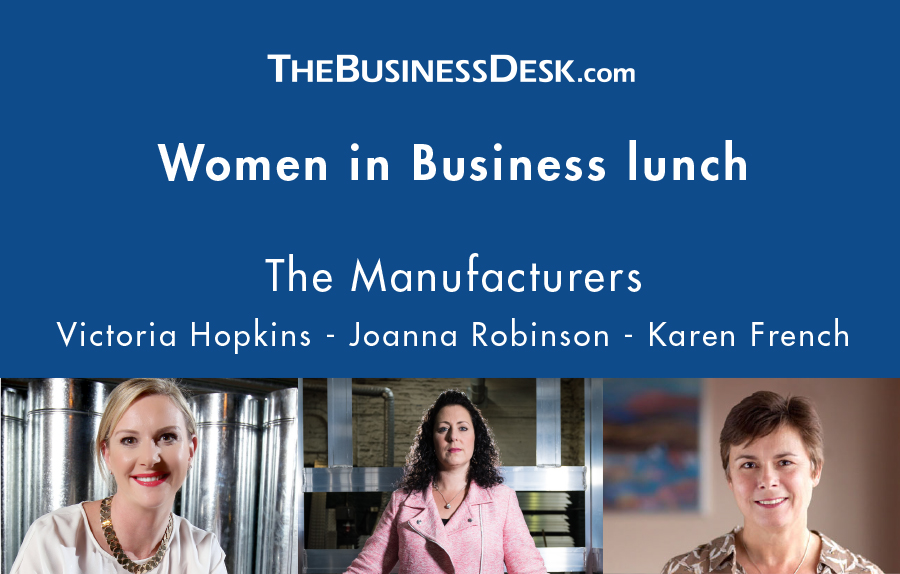 Friday
16 February 2018
12 noon – 3pm
£40 + VAT
includes a welcome drink and
two-course lunch
Bibis Italianissimo
Sovereign Street
Leeds     LS1 4AG

Sponsorship
There are a number of high profile opportunities available. To discuss these please contact:
Lee-J Walker, Commercial Director on 07807 083544 or email: leej.walker@thebusinessdesk.com
Leading ladies from the Yorkshire manufacturing sector will speak about their successful careers in a traditionally male working environment at TheBusinessDesk.com's next Women In Business lunch.
Taking place on Friday February 16, this event will focus upon the opportunities and challenges they have experienced and how they are looking to inspire future generations into the manufacturing industry.
Our panel of speakers will be:
Joanna Robinson, managing director of Bradford-based air management experts Mansfield Pollard
Victoria Hopkins, managing director of Hopkins Catering in Leeds, manufacturers of commercial catering equipment.
Karen French, the head of Squire Patton Boggs' manufacturing group in Leeds.
Robinson has been MD at Mansfield Pollard since 2013 and in that time has led a significant change in the culture and performance of the organisation.
As one of the few women in the industry, she feels passionate about introducing and promoting engineering as a worthwhile and rewarding career. She champions women in engineering and likes to promote the opportunities for them.
Historically, Mansfield Pollard had always been a family-owned business however changes to ownership gave Robinson the opportunity to participate in a MBO in 2010. In January 2013 Joanna became the first non-family managing director.
In contrast, Hopkins is the third-generation custodian of the family business and has worked in the industry for around 20 years. The business is a mix of manufacturing, engineering and ecommerce with a strong focus on quality and innovation. The 70-strong team boasts some of the most highly skilled sheet metal fabricators in the country.
In recent years export turnover has increased from 1% to 12% of turnover with customers in Australia, Canada, America and the Middle East. At our lunch, Victoria Hopkins will reflect upon her progress in the sector and ambitions for the future; as well as detail how she has seized growth opportunities in a challenging marketplace.
French is a property partner in the Leeds office of the Real Estate Practice group and has more than 25 years' experience as a commercial property lawyer. French acts for corporate real estate clients across a breadth of businesses and works very closely with manufacturers across the region.
She is the representative on the firm's Global Industrial Products Group, which focuses on several manufacturing initiatives.  This has included leading round table debates with manufacturers.
French will talk about her insight into the industry which she is so passionate about. She has seen what challenges are faced by the women in the manufacturing sector and will talk about perceptions across the industry and what more can be done to inspire the next generation to take to the helm.