Business in Brief: Strata; Minster Clinic; My Possible Self
Homebuilder Strata has unveiled a £1.8m refurbishment of its head office facilities at Lakeside, Doncaster.
It has completed a three-storey makeover to the building and panoramic backdrop, enhanced by a floor-to-ceiling wall of glass overlooking the lake.
The top floor is a 'loft' space that is dedicated to design, giving architects and creatives the opportunity to share ideas, trends and insights, resulting in house types that take influence from the locations of each development and their surroundings.
The second floor is an open-plan office space to invert the typical office pyramid. Rather than working top down, the business now encourages collaboration and working across multi-disciplinary teams.
As customers increasingly expect brands to anticipate and meet their needs in real time, Strata's ground floor is devoted to encouraging interactive customer engagement in a warm and welcoming environment for visitors.
Strata has invested in a configurator which will allow customers to have a more immersive experience as they choose the fixtures and fittings – viewing them in context using digital technologies.
CEO of Strata, Andrew Weaver, said: "We wanted to create an environment that was welcoming and reflective of our brand – which is modern and contemporary – but also that would use the latest technologies to give an experience like no other.
"Embracing new ways of working, we have invested in the technologies that will speed up information flow, communication and empower employee teams to make decisions and control the progress at site level."
:::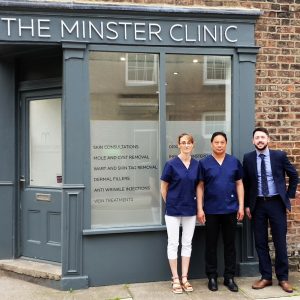 A North Yorkshire based business, Minster Clinic, has recently launched following start-up funding from Barclays.
Newly established Minster Clinic has been launched by husband and wife team Daniel and Sarah Thio and is based at Nunnery Lane, York.
The couple, who have extensive medical and surgical experience across many specialisms, will offer all manner of skin treatments and skin surgery using a state of the art dermatological laser together with aesthetic procedures such as wrinkle reduction, filler treatments and facial rejuvenation.
Daniel Thio, owner and partner in Minster Clinic, said: "It's very exciting to launch the clinic and we're keen to offer innovative and more state of the art treatments for our clients."
Daniel, who come from a surgical background, previously trained as a senior registrar in ENT and has a broad knowledge of general and plastic surgery. Sarah is an experienced GP with a wealth of surgical experience.
James Lee, Barclays Business Manager, said: "It's always exciting start-up any business and I've been really impressed with Daniel and Sarah's energy and commitment to make sure they offer the most innovative treatments for their patients, providing a professional service in a safe environment."
:::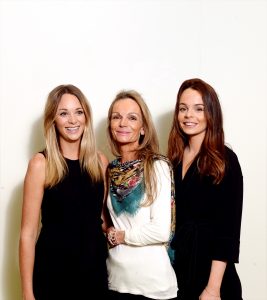 My Possible Self, the new mental health app, will join the NHS Apps Library after successfully demonstrating that it meets NHS technical, clinical and safety standards.
My Possible Self is based on content developed by the world-renowned Black Dog Institute that is proven to reduce stress, anxiety and depression in just eight weeks. The app is designed to help users aged 18 and above learn how to improve thoughts, feelings and behaviour.
The NHS Apps Library, which is currently in public beta version, helps patients navigate the many digital healthcare tools available, providing trusted digital tools for patients and citizens to manage and improve their health and wellbeing.
My Possible Self's modules are made up of cognitive behavioural therapy, interpersonal therapy, problem-solving therapy and positive psychology tools. The app uses algorithms to personalise user journeys according to individual responses.
Joanne Wilkinson, founder and chief executive of My Possible Self, said: "We have a great team, great content and great technology and we are delighted to have successfully demonstrated that we meet NHS technical, clinical and safety standards.
"We passionately believe My Possible Self has the power to help users manage fear, anxiety and stress."