People: RSM welcomes new corporate tax partner; lending platform appoints regional relationship director; and more
RSM, the audit, tax and consulting firm, has appointed Gwyneth Barber as a new corporate tax partner in the Hull office.
Barber is a corporate tax adviser with over 20 years' experience acting for regional, national and international businesses on a range of corporate tax planning, including international tax, property tax, shareholder issues, transactions, R&D, employee share schemes, Brexit related planning and supply chain management.
Barber has relocated from Grant Thornton in Leeds to work alongside the existing team at RSM to support a growing number of corporate clients.
Andy Capes, office managing partner at RSM in Hull, said: "It's great to have Gwyneth on board. The appointment reaffirms our commitment to investing in talent and the local market as we continue to expand our team and office space to ensure we are the go-to firm for mid-tier businesses in the Humber region."
Andrew Mould, corporate tax partner at RSM, added: "In a turbulent business landscape, practical, pragmatic and expert advice is what businesses need to help navigate any challenges and maximise the opportunities. Gwyneth's experience and approach delivers just that – a rational viewpoint in a complex economic landscape."
Barber also said: "RSM is a perfect fit for me. It offers the opportunity to help shape a growing practice in a dynamic office, and a vibrant business community. I look forward to working with Andrew and the team to contribute to the future growth of the firm."
:::
Assetz Capital, the peer-to-peer lending platform, has appointed David Reed as Regional Relationship Director in the Yorkshire and Humber region.
Before joining Assetz, Reed held roles as a Commercial Director for Leeds-based ERE Property and a Client Relationship Manager position at Progeny Corporate Law.
Prior to this, Reed had spent 27 years at NatWest in a number of senior roles, including Business Development Director.
In his new role at Assetz Capital, Reed will be responsible for sourcing finance facilities, such as secured development finance solutions, commercial mortgages and SME term loans, for clients in the Yorkshire and Humber region.
Reed said: "We've seen a marked increase in commercial property investment across the Yorkshire region in the last year, meaning that confidence is on the rise and borrower appetite remains high.
"Assetz Capital has shown great desire to support businesses that require funding but cannot access finance through traditional means, and this is what attracted me to the role. I'm looking forward to meeting with developers that have ambitious ideas but require the capital to execute their plans."
Damien Druce, Director at Assetz Capital, added: "David is a great addition to our team in the Yorkshire and Humber region. He has spent many years working in the finance industry, and his wealth of experience across a range of sectors means he understands the pressures that different companies face.
"We're confident that David will have a huge impact on our deal execution in his patch, working closely with SMEs and developers to support investment and business growth."
:::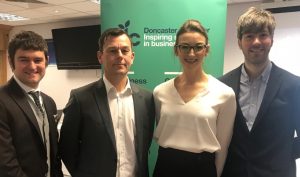 A lawyer and two managing directors have been appointed to the Doncaster Chamber Board of Directors.
They will share their expertise to advise the membership organisation that supports Doncaster's private sector through its tailored business services.
Chamber President Michael Wilkinson (Frog Education) announced the election results at the Doncaster Chamber AGM.
Joining the Board is Tracie Dudley Shaw (Pristine Commercial Cleaning), Nick Fletcher (Analogue Electrics Ltd.) and Sarah Naylor (Atherton Godfrey).
Wilkinson said: "Doncaster has a wealth of excellent businesses and high calibre leaders which is reflected on the Chamber's Board of Directors. Through their respective firms, Tracie, Nick and Sarah are long-term Chamber members who have a good understanding of our vision and goals and what other businesses need to thrive and grow.
"The Board's diversity ensures that firms of all sizes, sectors and vintage, and their staff are supported with their business needs including business advice, events and trainings, marketing and promotion, health and wellbeing, savings, and local and national issues."
The Chamber also welcomed three new co-opted directors, Andrew Morley (ProAktive), Gavin Baldwin (Club Doncaster) and Suzy Brain England OBE (NHS).
Wilkinson added: "With our new directorate we are looking forward to an ambitious 2019 that will continue to support our members and really get things done across the borough on their behalf."