People: Architects announces promotions; New non-exec director at listed firm; and more
CODA Studios, the multi-disciplinary architectural practice based in Sheffield, has announced two new promotions.
Abel Hinchliffe, formerly an associate director of the company, moves up to full director level.
Hinchliffe, who joined the company as a school leaver, heads up CODA Bespoke which specialises in luxury residential developments.
He was also recently entrusted with the responsibility of also leading Studio 4 which is currently delivering numerous office to residential developments.
At the same time, Andrew Chetwynd, one of the project architects with CODA Architecture, has been promoted to Associate.
Chetwynd has worked in both Sheffield and London, with a background in the implementation of large residential projects.
He forms part of the CODA super residential team, tasked with implementing design and build residential projects.
Matt Bowker, Managing Director, said: "We are delighted to be able to announce these two important promotions. Both Abel and Andrew have shown commitment to the company over many years and they fully deserve the recognition their new titles and responsibilities bring.
"Coming after another year of growth across all areas of the company, we strongly believe they both will help us develop even more successfully in the years ahead."
:::
Listed Engineering Services Group Renew Holdings has appointed Shatish Dasani as a Non-Executive Director and Chairman of the Audit Committee with immediate effect.
Dasani is a Chartered Accountant with over 20 years-experience in senior public company finance roles across various sectors including building materials, advanced electronics, general industrial and business services. He is currently the Chief Financial Officer of Forterra, which he joined in 2015. He was previously the Chief Financial Officer of TT Electronics and has also been alternate Non-Executive Director of Camelot Group and Public Member at Network Rail.
John Bishop has retired from the Board effective today.
David M Forbes, Chairman, said: "I am delighted to welcome Shatish to the Board. His appointment will bring additional valuable experience in financial and corporate governance matters and will assist the Board in delivering the Group's established strategy".
:::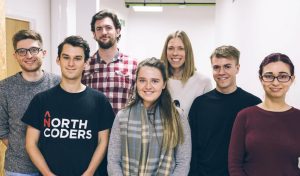 Northcoders, the coding bootcamp based in Manchester and Leeds, has added seven new members of staff to its teaching, talent and partnerships, marketing, mentoring and finance teams.
The new tutors are Tom Simmons, Vel Georgieva and Alex Cox. All three are qualified coders and will be responsible for delivering Northcoders' curriculum, mentoring students on a group and one to one basis, as well as researching and staying abreast of industry news, technology trends and changes in tech.
Aaron Ward has joined Northcoders as its new talent and partnerships manager. Ward is an IT recruitment specialist who has worked solely within the .Net software development arena across the North West of England for the past seven years. He joins from onezeero.
Maddison Griffiths is the firm's new onboarding mentor and will be helping people to get onto Northcoders' full time and pre-courses. He studied Media, Culture and Communications at Liverpool John Moore's University and has previously worked at National Savings and Investments.
Helen Batra-Squires has been appointed as a designer and will be working with the marketing team on all aspects of Northcoders' external and internal communications. She originally studied graphic design in London before setting up boutique agency Hels Bells Design alongside running a greeting cards publishing company and wedding stationery design business.
The final new starter is Charlotte Prior as finance manager. Prior will be working with the senior leadership team on the financial management of the business. She has previously worked at Turning Point and Buildzone UK Ltd and is currently studying towards her chartership with the Chartered Institute of Management Accountants.
Vel Georgieva said of her new role: "Northcoders is a fantastic organisation and I am now delighted to be part of it. It offers an in-depth approach to learning that is not just based on how to simply code, but how the code works under the surface. Offering that level of insight is both refreshing and exciting as we help to create the coding stars of the future."
Chris Hill, founder of Northcoders, added: "The success of our business is built on the experience and expertise of our team so we are delighted to welcome these new recruits."