Wedding venue picks up Yorkshire & Humber's 'Project of the Year' title
Bolton Abbey's new wedding venue The Great Barn, has been named Yorkshire and Humber's 'Project of the Year' at the RICS Awards 2019, Yorkshire & Humber, which celebrate the region's top, community-led built projects and the talent behind them.
The transformation of Bolton Abbey's 18th century Tithe barn – one of the largest medieval barns in the country – into a wedding venue, beat over 35 of the region's most inspiring property projects to win two of the eight category awards on the night – Building Conservation and Commercial property – before being named the overall 'Project of the Year.'
RICS Judges said The Great Barn was a stand-out 'Project of the Year' winner and praised the project team behind it – Bolton Abbey Estate, Cripps & Co, Pearce Bottomley Architects and Universal Projects (UK) – for sensitively restoring the Grade II-listed barn and transforming it.
Since its transformation from an agricultural store, the flagship venue run by Cripps & Co is generating 13 times more rental income for the estate.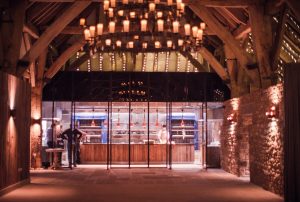 Chair of the judging panel for the RICS Awards, Yorkshire & Humber, Rob Hindle of White Hindle & Partners (WHP) said: "Restoring a 500-year-old barn and transforming it into such a spectacular venue is no easy job. The team behind it should be incredibly proud; their vision, talent and thorough approach to this project is admirable and fully deserves to be recognised with the Project of the Year title."
Another North Yorkshire built project to win an accolade at the RICS Awards, Yorkshire & Humber was the new cancer care centre in Northallerton – the Sir Robert Ogden Macmillan Centre – which scooped the Community Benefit award for its high-quality facilities and care for cancer patients.

The winners of all eight were announced as:
Building Conservation – The Great Barn, Skipton
Commercial – The Great Barn, Skipton
Community Benefit – The Sir Robert Ogden Macmillan Centre, Northallerton
Design through Innovation – Bonus Arena, Hull
Infrastructure – Knostrop Sludge Treatment Facility, Leeds
Regeneration – The Glass Works Phase 1, Barnsley
Residential – CornYard, Sheffield
Tourism & Leisure – The Beverley Arms Hotel – Bar and Restaurant, Beverley
Highly Commended certificates were also handed out on the night to Scarborough Market (Building Conservation), and The Hide in Driffield (Tourism & Leisure).
Mr Hindle commented: "A diverse range of innovative projects, of all sizes and budgets, made the shortlist this year and the winners are truly representative of our region's best and most innovative built projects that are having a significant positive impact on their communities. The teams behind these winning projects should be very proud of their exceptional achievements and contribution to the region."
All category winners will go on to compete against other regional winners at the national RICS Awards Grand Final on 4 October in London, for the chance to be crowned the overall UK winner in their respective category.
Shortlist: RICS Awards 2019, Yorkshire & Humber
Building Conservation
Astrea Academy Sheffield Primary School, Sheffield
Elsecar Heritage Building 2, Barnsley
Samuel Tuke Apartments, York
Scarborough Market, Scarborough
St Georges Hall, Bradford
The Great Barn, Skipton
Commercial
5 Godwin Street, Bradford
Avenue HQ, Leeds
Blenheim Point, Leeds
Logic Leeds, Leeds
St Georges House, Leeds
The Great Barn, Skipton
The Springs, Thorpe Park, Leeds
Thirsk Racecourse, Thirsk
Community Benefit
Forging Futures Campus, Leeds
Springwell Leeds, Leeds
The Garnets, Leeds
The Glassworks Phase 1, Barnsley
The Sir Robert Ogden Macmillan Centre, Northallerton
Design through Innovation
Bonus Arena, Hull
Broadlea Street, Leeds
Lister Mills, Bradford
Infrastructure
Burleigh Medical Centre, Barnsley
Knostrop Sludge Treatment Facility, Leeds
The Sir Robert Ogden Macmillan Centre, Northallerton
Regeneration
5 Godwin Street, Bradford
The Garnets, Leeds
The Glassworks Phase 1, Barnsley
Residential
Cardinal Court, Bishophill, York
CornYard, Sheffield
The Cotton Mill, Skipton
The Garnets, Leeds
Ulla Green, Tadcaster
Tourism & Leisure
Orchard Café, Mount Grace Priory, Northallerton
The Beacon, Hull
The Beverley Arms Hotel, Beverley
The Hide, Driffield
Thirsk Racecourse, Thirsk