Acquisitive estate agency snaps up city living counterpart
Leeds estate agent Linley & Simpson has acquired the residential lettings and sales business of independent agency Morgans –  adding more than 1,450 homes to its own lettings portfolio.
This is the third acquisition Linley & Simpson has completed since the Government's letting fees ban came into force on June 1. The business said the ban has added impetus to consolidation of the industry and it has also revealed two further acquisitions are at an advanced stage.
Linley & Simpson's lettings portfolio now stands at 8,000 properties across its 16 branches in North and West Yorkshire.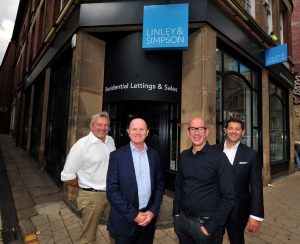 The acquisition deal brings together the land and new homes specialisms of both agencies, as well as their property consultancy services, as part of a strategy to support the growing pipeline of new build developments across Leeds.
Will Linley, Chief Executive of Linley & Simpson, said: "This is a milestone moment for two like-minded, home-grown Yorkshire agencies which both launched in Leeds in 1997.
"When we first opened our doors, there were only around 500 residents in Leeds city centre. Now there are over 12,000 and over the next decade we expect the population will grow to well over 20,000.
"As the cranes return to the Leeds skyline in ever-increasing numbers, this is an opportunity to bring together all our skill-sets under one roof amidst this latest phase of Leeds' urban revolution.
"The combination of Morgans' city living expertise and our wider Yorkshire reach is a perfect fit for providing a market-leading service – one that meets the needs of buyers and sellers, landlords and tenants, as well as developers.
"Under the vision, leadership and unrivaled knowledge of founders Jonathan Morgan and Nigel Lenton, the name of Morgans has become synonymous with city living in Leeds. We are delighted both will remain as key members of our senior executive team."
While the deal signals the biggest acquisition in its history, Linley & Simpson is pursuing other opportunities as part of its growth strategy.
Linley added: "For us, this is a bulls-eye acquisition that underlines our confidence in the future of Yorkshire's residential property market – it's as simple as that.
"Our appetite for expansion has not been dampened by the fee ban. In fact quite the reverse, we view this as the perfect time to expand at scale and pace."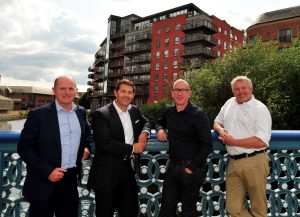 Jonathan Morgan said: "We are thrilled to be part of the Linley & Simpson family.
"It will herald the start of a new journey as two award-winning agencies come together to drive innovation to another level and to further improve customer service for all our clients."
The acquisition – completed for an undisclosed sum – is the eighth to take place since Linley & Simpson secured the backing of LDC, the UK's leading mid-market private equity investor, in June 2018 to accelerate its growth plans.
Gareth Marshall, investment director at LDC in Yorkshire & North East, said: "It's been a year since we partnered with Will and Nick to support their ambitious buy-and-build strategy, so it's only fitting the business's largest acquisition to date marks the milestone.
"Linley & Simpson's footprint in Yorkshire has expanded at an impressive rate in the last 12 months and we're confident its position as a leading agent in the region will continue to grow."
Funding to Linley & Simpson for this latest deal was provided by Santander Corporate and Commercial Bank. Legal advice was provided by Simon Morris, Head of Corporate at Harrogate solicitors Raworths.