£120,000 crowdfunding campaign to help healthy food firm expand
A Leeds food production and delivery business has launched an online crowdfunding drive to take its model to workplaces across the UK.
Lean Lunch, which delivers chef-made dishes by bike to hundreds of time-poor workers across Leeds, wants to raise £120,000.
The company, which was set up in 2017, explained it has been targeting workers who are looking for a healthier, tastier alternative to sandwich and crisps meal deals.
It stresses that while it has seen heavy demand from individual customers, 70% of its sales come from businesses, as firms like Sky, Arla and Burberry realise the benefits of focusing on their teams' health.
The business generated £108,000 worth of turnover in 2018 and said it was on course to double that in 2019. It wants to secure funding to grow its customer base in Yorkshire and replicate its model in other British cities.
Founder Sat Mann said he came up with the idea for Lean Lunch after shopping for and preparing a healthy lunch to eat in the office became time consuming and uninspiring. The business has its kitchen in Kirkstall and is now run by Mann and his wife Charlotte.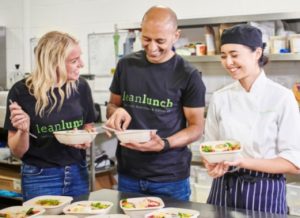 Mann said: "Eating highly processed food is harming our health and the health of the planet.
"And the problem isn't just the junk we eat, it's the nutritious food we don't eat. Research shows employees with poor diets are 66% more likely to see reductions in productivity than those who have a nutritious, balanced diet, and 75% of adults struggle to achieve their five-a-day.
"So, we've created a fresh, convenient alternative to pre-packed lunches that help maintain energy levels and deliver at least three of your five a day.
"We're committed to inspiring and empowering people living in busy city environments to make better choices for their wellbeing and the wellbeing of the planet, and to supporting people to eat more healthily and sustainably."
The crowdfunding should enable the business to refine its own software to ensure the system it has developed in Leeds can easily be picked up and used elsewhere.
"We want to refine the ordering process to make it truly personalised," said Mann.
"Currently, you can filter by dietary requirements, but we'd like to be able to automate this so you get menu recommendations based on your personal preferences.
"We'd love to develop an app and have a fleet of electric vehicles that can deliver to industrial parks and offices outside of the city centre too."
People can find out more about the crowdfunding campaign at www.crowdcube.com/leanlunch