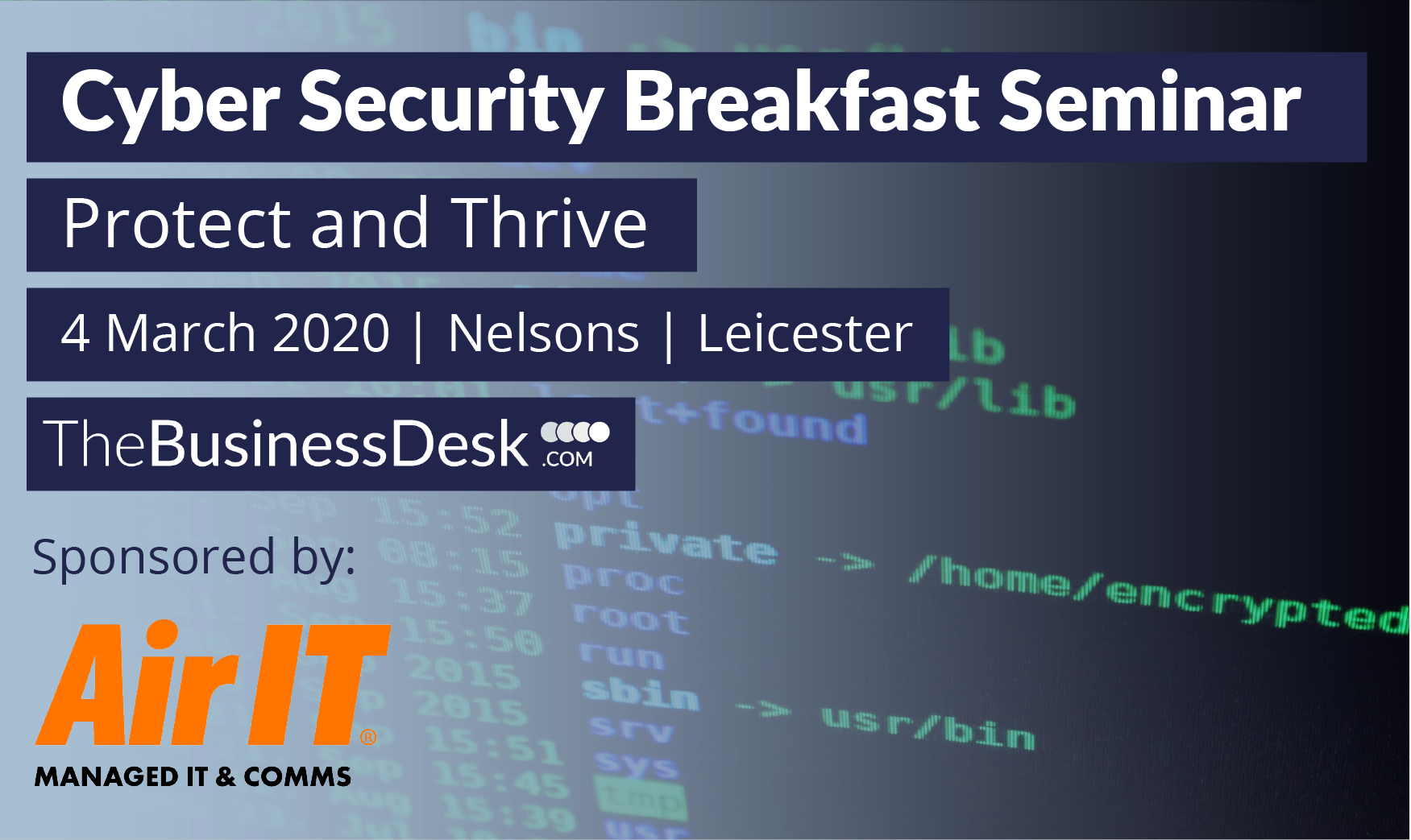 Wednesday
4 March

9am – 10.45am
Free to attend
Click on the 'Book Now' button to secure your place(s)

Nelsons, Provincial House, 37 New Walk, Leicester LE1 6TU
Sponsored by:

Our forthcoming breakfast seminar will look at the vital issue of cybersecurity and how it can affect the success of your business.
Our high-profile panel of speakers includes:
– Lee Johnson, chief technology officer at Air IT and head of Air Sec
– Brian Lowe, MSSP Channel account executive at AT&T Cybersecurity
– Harpeet Sandhu – partner and head of commerce and technology at Nelsons Law
When it comes to the security of your business, cybercriminals who deal in data and disruption now pose a greater risk than traditional thieves. In 2019, 55% of UK businesses suffered a cyber-attack according to a report published by insurance firm, Hiscox. 
With an economy worth more than £1 trillion annually and hacking tools readily available on the dark web, this issue is only set to worsen. Despite recently introduced GDPR legislation, many businesses continue to rely on outdated systems for protection.
In today's digital world, operating up-to-date security solutions is paramount to protecting your business assets and data. Our panel will discuss how business owners need to adapt to meet the changing cyber threat landscape and build a cyber safe culture combining people, process and technology. 
Prevention is always better than cure and is much more cost-effective in the long run – our Cyber Security breakfast seminar will make sure you have all the knowledge you need to ensure your business can trade securely, both now and in the future.
Click on the 'Book Now' button to secure your free place(s)