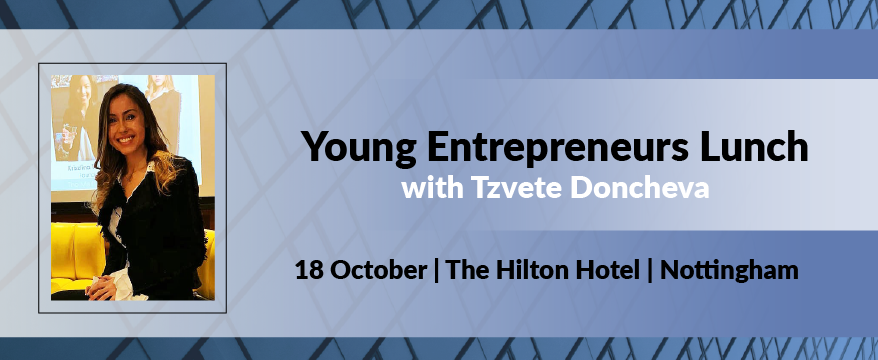 Friday 18 October

12pm – 3pm
The Hilton Hotel, Milton St, Nottingham NG1 3PZ
£40 + VAT
includes a welcome drink and two-course lunch

There are a number of high profile sponsorship opportunities available.
To discuss these please email sales
How are millennial entrepreneurs different to their predecessors, what new working practices are they promoting and how are this new wave of business leaders breaking down decades-old barriers around gender and diversity?
At TheBusinessDesk.com's Young Entreprenuers Lunch, Tzvete Doncheva, will share her experiences of being a young entrepreneur and how she thinks her generation can usher in new ways of working for the business leaders of the future. 
Tzvete's career in media started shortly after graduating from Queen Mary University of London in 2016. She worked as the UK correspondent for Bulgaria's largest media group BTV where she covered UK breaking news and current affairs. She then used her communication and presentation skills developed as a TV reporter to transition into business development and PR.  She is currently resident innovation manager at London Connectory, an urban mobility co-creation hub by Bosch, Nitrous and in partnership with TfL. Tzvete is also a adviser with The Entreprenuers Network. Prior to this, she helped launch and brand a co-working platform start-up which partners up with some of London's finest hotels.
Tzvete is well connected in the digital eco-system in London – from early stage start-ups to prominent venture capital firms. Having experienced the gender gap and bias in the industry first-hand, Tzvete is passionate about working to create a meaningful change for women in business and in STEM industries in particular as well as promoting diversity.
Join us for what will be a fascinating discussion.