Siemens opens new 31,000 sq ft Nottingham office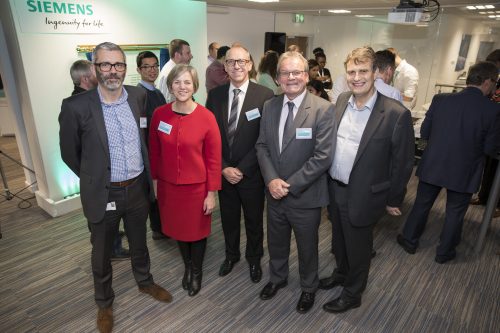 Siemens has opened its new Nottingham offices at Central Park, Lenton Lane Industrial Park.
The move of 300 employees to a 31,000 sq ft building represents the biggest office letting in Nottingham in 18 months, and was officially opened by local MP Lilian Greenwood MP.
The new offices will be home to Siemens Managed Services, the metering services arm of the business.
Greenwood said: "It's fantastic to see Siemens make a long term commitment to Nottingham. This investment represents a vote of confidence in our city and its ability to be at the heart of a balanced economy. Siemens employs over 300 people and each of them makes a strong contribution to our local economy, we should use this investment to attract more technology companies to our city centre which is a great place to do business".
Kevin Tutton, head of managed services at Siemens, added: "The new site provides a cost effective state of the art facility, creating an environment that encourages innovation and collaboration in support of our customers, employees and partners. Ultimately, this is a vote of confidence and commitment from Siemens in Nottingham."
David Pearson, director of partnerships and membership services at East Midlands Chamber of Commerce, added: "Siemens is one of the biggest companies in digitalisation and business, so these new facilities will help accommodate this, with the new IT infrastructure making a pathway for more success for Siemens in Nottingham."
Councillor Sam Webster, portfolio holder for business, education and skills at Nottingham City Council, said; "As we welcome Siemens to their new Lenton Lane premises, where I hope they will continue to innovate, create jobs and contribute to the local community, I would like to take this opportunity to recognise their investment which clearly shows their confidence in building a long term future here in Nottingham.
"Nottingham is a city with a large and diverse labour force, integrated, sustainable transport system and a range of attractive business premises. Siemens' investment demonstrates the city's potential to attract leading global companies as well as enabling our own local enterprises to grow."