Record office take-up in Nottingham, says new report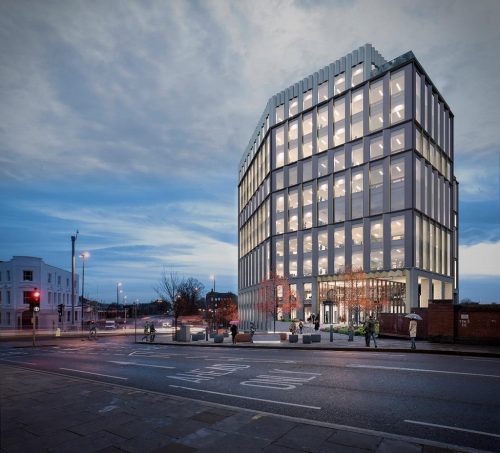 Last year saw record levels of office take-up in Nottingham while prime rents reached record highs in Leicester, according to a new report.
Innes England's Market Insite report, which monitors trends in the regional property market across Nottingham, Derby and Leicester, highlighted a "positive" year across the region with "keen interest" from owner-occupiers for freehold property and "strong performances" in the office and industrial sectors across the region.
The report showed that prime industrial rents in both Derby and Leicester increased, driven by a lack of supply – while availability in Nottingham hit a five-year low and that prime office rents in Leicester reached record high of £18 per sq ft.
Meanwhile, in Nottingham, office take-up reached a record level of 733,600 sq ft, bolstered by HMRC's commitment to 275,000 sq ft at Sladen Estates' Unity Square scheme, and investment in the region was boosted by forward funding at Unity Square in Nottingham and the sale of a 50% stake at Highcross in Leicester.
Tim Garratt, managing director at Innes England said: "Much like the previous year, 2018 was a turbulent one filled with political uncertainty but despite that, the East Midlands property market is generally performing well.
"Investment in the region remains strong, with notable transactions being the forward funding of Unity Square in Nottingham and Hammerson's sale of a 50% stake in the Highcross Shopping Centre in Leicester; while in Derby the industrial sector remained popular with investors.
"In all three cities, we have also seen significant levels of local authority activity as they look to bring forward important regeneration schemes within the respective cities. In Derby, the council has undertaken a flurry of activity around the former Debenhams building after naming St James Securities as the preferred developer for the site.
"Nottingham's Southside also continues to make progress, with work well underway on delivering a new car park and bus station along with proposals for a new City Library. In Leicester, the Waterside scheme has started to gain momentum, with residential schemes being brought forward by Keepmoat and commercial development being undertaken by Brackley Developments."
Innes England has offices in Derby, Leicester and Nottingham.