Plans for £50m West Bridgford scheme rejected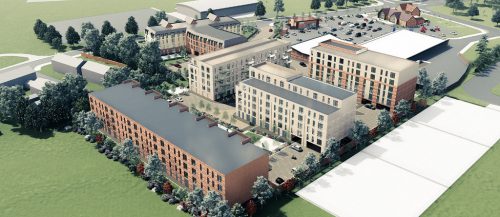 Plans to build a huge new mixed-use scheme in West Bridgford have been thrown out by Rushcliffe Borough Council – despite planning chiefs recommending the scheme for approval.
A company called Wilford Lane Developments, which is thought to be a joint venture between Lincoln-based Simons Developments and two Kuwaiti investors, wanted to build a new Lidl supermarket with 350 car parking spaces, a pub, a drive-thru coffee shop, 204 apartments in four blocks and 75 retirement homes.
Once finished, the development would have created around 100 jobs on Wilford Lane on disused land next to the ROKO gym.
The scheme had been designed by Whittam Cox Architects and had been through several iterations before being submitted to Rushcliffe Borough Council.
However at a Planning Committee meeting last night, the plans were rejected.
Frank Gillespie, dvelopment director at Simons, said: "We're extremely disappointed with the Planning Committee's decision to turn down our proposals for the derelict land off Wilford Lane in West Bridgford.
"This £50m development would have delivered a number of significant benefits to West Bridgford, including the creation of around 100 new and full-time jobs for local people and a sizeable contribution to the borough's housing needs.
"Perhaps most important of all, the development would have ensured that a key local site, left unused for almost a decade, once again played an important role in the future of West Bridgford.
"Following our consultation event in December last year, we worked hard to ensure that the submitted plans addressed all of the key issues and concerns raised by local residents.
"We will now review our next steps, one of which is to appeal the Planning Committee's decision."
Dominic Bryan, Lidl GB's regional head of property, said: "Naturally we are disappointed with the Planning Committee's decision. Had planning consent been granted, our store would have delivered around 40 new full and part-time jobs and provided more shopping choice in the local area. We remain committed to bringing a new store to West Bridgford and will now discuss our options with the development team at Simons. We look forward to sharing updated plans with the local community in the not too distant future."