On the move: the latest East Midlands hires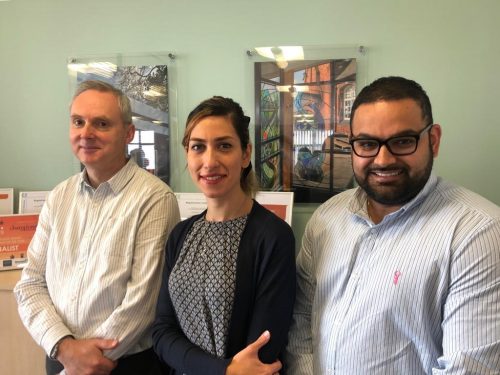 Architecture and construction consultancy YMD Boon has announced a trio of new hires.
Kevin Cahill has been appointed as senior architect, while Ghazaleh Hajijafari and Sandeep Sian have joined the firm as architectural technicians at its Derby headquarters.
Cahill brings 32 years' experience to the role. He will act as project architect on a variety of schemes including Rushcliffe Borough Council's new leisure centre and offices in Bingham.
Hajijafari previously worked at two Iranian architectural practices before joining YMD Boon. She will be responsible for Revit 3D modelling and presentations across a variety of projects and sectors.
Sian is an associate member of the Chartered Institute of Architectural Technologists (CIAT) and brings a wealth of technical experience to the consultancy.
Shari Setayesh, director at YMD Boon, said: "We're so pleased to welcome Kevin, Ghazaleh and Sandeep – their appointments are a result of our organic growth across our Derby, Lincoln and Nottingham offices this year, and we are continually reinforcing our team with talented and skilled individuals."
Elsewhere, West Bridgford-based estate and lettings agency Fairview Estates has expanded its team.
New recruit Rebecca Lait, who has extensive experience of managing her own properties, joins the company as property manager.
She said: "I have around 6 years of experience in managing properties owned by myself or my family business. My role from the management perspective is very similar so I have plenty of experience here which I feel I have been able to apply well under Fairview's own system. I believe that being a landlady myself helps me better understand the needs of our landlord/landlady clients."
Lait has already begun implementing new processes at the firm including a "report a problem" section on its website.
Aaron Cambden, director at Fairview Estates, added: "I made the right decision in welcoming Rebecca to the Fairview team. She's already become a valued member of the team with the inroads and improvements to our operations. We couldn't be happier to have Rebecca here at Fairview and hope that over time she'll continue to develop into an asset to our team."