Work set to start on 50,000 sq ft Nottingham office scheme later this year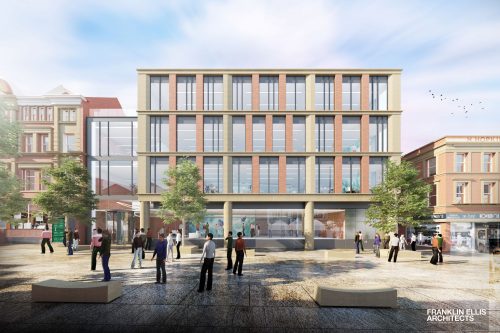 Work on a 50,000 Grade A office scheme in the centre of Nottingham is expected to start later this year, according to developers.
Bildurn says it will kick-off the much-anticipated development at 11 Station Street – two years after it received planning permission.
The news comes as the firm says it set to complete 16 luxury waterside apartments in the former Gresham Hotel on Carrington Street and will be welcoming its first tenants in September. The 1- and 2- bedroom apartments are being let through local agents Cavendish Residential.
The complete strip out of the historic Nottingham hotel and renovation of the existing structure began in 2017. Architect Bramley-Maye Design was then brought onboard to design the refurbishment of the interior which began in 2019.
Bildurn has retained or re-instated many original features within the property to contrast with the contemporary interior fit-out. All the original sash windows have been refurbished and an original stained-glass window in the stair well has been restored. The design of the stained glass has been recreated for a new front door that will be in keeping with the rest of the building. The canopy over the entrance that displayed the Gresham Hotel signage has been taken down and renovated to its former glory using historic photographs as a reference.
The new apartments will complete the redevelopment of the 20,000 sq ft building which first began in 2016 with new ground floor retail units for 200 Degrees and Superdrug. Bildurn installed new timber shop fronts that were more in keeping with the history of the building.
Estates Manager Tom Shipley said: "We believed the upper floors were ripe for conversion to apartments based on on fantastic location, adjacent to the train station, great transport connections, proximity to the city centre and waterside amenity."
Following the completion of the Gresham Apartments, Bildurn has also received consent for 12 apartments in the upper floors of the former Police Station at 3-9 Station Street.