HS2 Eastern Leg leaders 'wholeheartedly reject' recent high speed report
Leaders from along HS2's Eastern Leg have written to the Prime Minsiter urging him to deliver both the local improvements and national connectivity they say are needed to level-up the UK economy, and spearhead an economic recovery post-pandemic.
Co-signatories are councillor Kay Cutts, leader of Nottinghamshire County Council, Dan Jarvis MP, Mayor of Sheffield City Region and councillor Judith Blake, leader of Leeds City Council.
The letter says the authors "wholeheartedly reject" the recent Rail Needs Assessment (RNA) publication from the National Infrastructure Commission (NIC) which says any Eastern Leg would terminate at East Midlands Parkway station.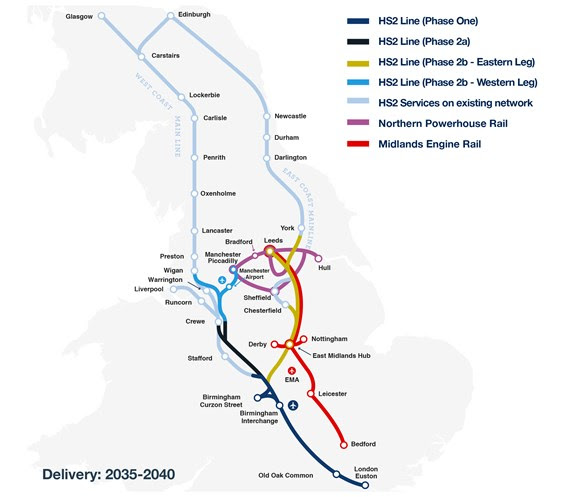 It adds: "The NIC report is not fit for purpose – they were tasked with integrating these projects, not pitting them against each other. Your challenge in February to the NIC was for them to work out how to integrate major projects both North-South and East-West, not force the North and Midlands to choose between them."
The group writing the letter says the Eastern Leg of HS2 would create 150,000 jobs and has urged the Government to establish and "arms length delivery body" for High Speed North and Midlands.
The letter adds: "On the best outcome for the Eastern leg of HS2, our coalition is clear. We are calling on the government in the forthcoming Integrated Rail Plan (IRP) to confirm a clear timescale that honours your commitment and sets out when the Eastern leg will be delivered in full and at pace, to allow for our cities and towns to have certainty around their growth strategies and long-term economic planning. Each year of delay costs the North and Midlands £4.9bn. We need to see the hybrid bills for HS2 East in Parliament by 2023, and work can also begin on sections that do not require legislation."
It continues: "We urge you and your government colleagues to dismiss the RNA and develop plans that honour your commitment to deliver the Eastern leg in full as an integral part of High Speed North. We urge you to work with us and our colleagues in both local government and business to find a way forward that works for the whole country and provides the huge economic boost our regions are crying out for as we recover from the pandemic and seize the opportunities for economic growth and levelling up."