£50m plan to create hundreds of jobs at new bottling plant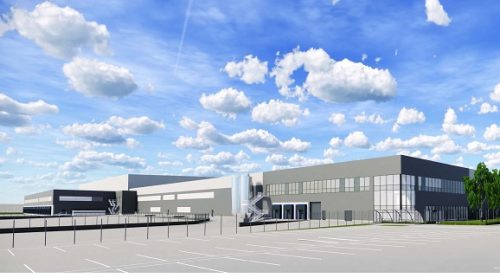 Hundreds of jobs are on the way in Derbyshire after a £50m inward investment in a new bottling plant was confirmed.
Plans by the MEG Group for the 540,000 sq ft facility at Dove Valley Park in Foston, have been hailed as "the largest single investment in South Derbyshire since Toyota".
The planning application for the scheme was submitted to South Derbyshire District Council and approved by the authority's planning committee in December 2019. Since then, investigative works have been carried out on the land using boreholes to a depth of over 200 ft to ascertain the water quality and capacity.
Despite COVID-19 and Brexit, preparatory works have continued during 2020 as MEG considers the scheme to be a long-term investment into the UK.
Frank McCardle, chief executive of South Derbyshire District Council, said: "We have worked closely with the MEG team since their original enquiry, in bringing this new state-of-the-art production facility to South Derbyshire, on Dove Valley Park.
"This major inward investment has been secured through a dedicated approach, supported by the many benefits of locating in our district. Job creation is always welcome along with energy efficient technology that this plant will incorporate."
Work has been scheduled to start in the summer of this year and will be carried out by Clowes Developments.
The facility will become the first production plant in the UK for the MEG Group. Once set up, the facility will supply Lidl with mineral water and soft drinks for its supermarkets across the UK and Ireland.
Paul Shanley, director at Clowes Developments, said: "We have established an excellent working relationship with the MEG Group team, based in Germany, and more locally with South Derbyshire District Council, who have been instrumental in enabling this major inward investment for the region and indeed the UK."