Agency round-up: Purpose Media; Fluid Ideas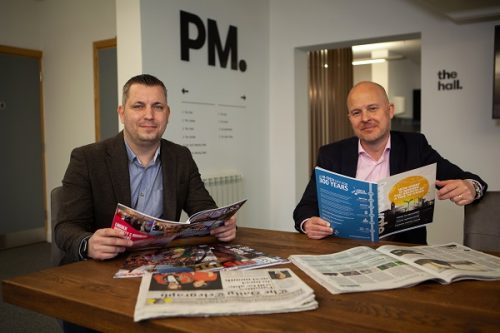 Steve Hall, the former editor-in-chief for Reach in the East Midlands, has joined website development, creative and digital marketing agency Purpose Media as a non- executive director.
Hall has over 37 years of experience in journalism and running businesses and news operations across eight sites, including Derby, Nottingham and Leicester. He was named UK Editor of the Year in 2011, and twice won the UK Regional Newspaper of the Year awards. Other current non-executive director roles include Marketing Derby where he is also publisher of Innovate magazine.
His role at Purpose Media is to help and support the management team to ensure all activity is measured and effective. He will also oversee special projects that support the future ambitions of the company which is led by managing Director Matt Wheatcroft, and fellow directors Tim Lenton and Claudio Devanzo.
Hall said: "I have long been an admirer of Purpose Media's reputation for excellence and I'm particularly impressed by everyone's commitment to gaining a deep understanding of client needs and maintaining a laser focus on generating impressive results. They've done brilliantly during lockdown to maintain and build their business and there is a steely determination to come out of restrictions in a stronger position by investing in the team and niche marketing programmes.
"I am delighted to be joining a company which is packed full of energy, talent, creativity and ambition, and I hope to guide future decisions in order to capitalise on the current high demand for digital marketing skills."
Staff numbers at creative agency Fluid Ideas have topped 40 following its latest recruitment drive.
Seven people have joined the Derbyshire agency in the past few months, taking overall staff numbers to a record high of 42.
The latest appointments mean its team has doubled in size in the past three years – and the agency is still recruiting for more posts.
Joint managing director Ed Bowler said new roles have been created to meet demand from new and existing clients.
Fluid Ideas' design and artwork team has been strengthened by the arrival of graphic designer and art worker Sammi Creighton. She has 10 years' experience in the field, including working at Aston Villa FC as a graphic designer and design manager.
Qasim Ali and Hailey Kim have joined the image and motion team. Qasim is a CGI artist who specialises in architectural visualisation. Hailey is a videographer who makes short films in her spare time, some of which have been screened at movie festivals.
Holly Glasby and Poppy Marello have been appointed to Fluid Ideas' search and social team. Glaby is a social media specialist, a copywriter and designer. Marello is a digital marketer and social media manager.
Fluid Ideas has also bolstered its web and systems team with the arrival of back-end web developer Ben Hodge and front-end specialist Gianluca Cerniglia.
Fluid Ideas has also bolstered its web and systems team with the arrival of back-end web developer Ben Hodge and front-end specialist Gianluca Cerniglia.