Tech firm takes a bite out of Chocolate Factory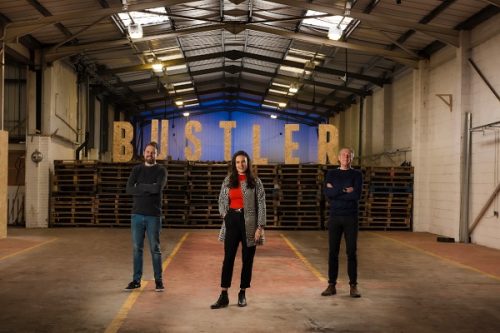 Smart tech and IT firm, Scenariio, has relocated to new premises at The Chocolate Factory on Siddals Road in Derby.
The firm has partnered with fellow Chocolate Factory tenants, Bustler Market who also recently relocated to the site.
Supporting the Bustler team ahead of their upcoming relaunch, the Scenariio team have been instrumental to the site's three-month renovation project. This includes installation of smart lighting and data sensors, enhanced security systems, audio visual (AV) equipment excellent wireless coverage throughout the venue.
The installation of 40,000m of Commscope data cables across the building will also help to transfer power and data to numerous end devices, including 200 sensors and lights, 30 cameras, ten AV screens and 11 wireless access points.
This equipment will provide Bustler with occupancy, security, demographic and space utilisation data on a range of digital signs throughout the space, helping to further enhance the Bustler Market customer experience.
Rob Pritchard, managing director at Scenariio, said: "It is a really exciting time for both businesses as we emerge from what has been an extremely challenging period. The Chocolate Factory site will deliver a smart, adaptable space, that allows better interaction between the occupants, customers, and the building's technology in a way that Derby has never seen before. But, it will also showcase how technology can improve the customer experience, especially in a hospitality environment.
"We have worked closely with the Bustler Market team to ensure we're helping them give their customers a fantastic experience when they visit, and tech plays a big part in that. Whether that's robust and fast wireless coverage throughout the building to ensure customers stay connected at all times, or providing excellent AV equipment for upcoming events at the venue. We are really excited for the future in our new shared home at The Chocolate Factory."
The fully refurbished 1,200 sq ft offices above the venue where both Scenariio and Bustler will be based, feature breakout spaces, a boardroom, meeting and training rooms and storage, with an additional secondary office to the rear for another busines to join in the coming months.
Olivia Pritchard, Bustler Market managing director, added: "This partnership is a particularly special one for us. Not only does it allow us to work in partnership with our fellow Chocolate Factory neighbours, but the new robust tech systems mean we can provide our customers with an even better experience than ever before. Whether that's the ability to put on show stopping events for our customers or providing the opportunity for the venue to be hired out for private functions, including weddings and corporate events and exhibitions.
"2020 certainly came with its challenges but we're looking forward to a really exciting year ahead, and we can't wait to welcome our customers back to show them what we've been working on when we reopen later this year."