Environmental assessment ordered as part of 40-storey skyscraper plans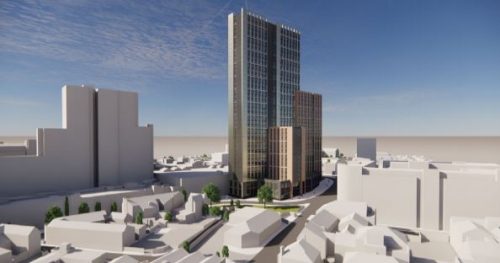 The developer of a planned 40-storey skyscraper in Nottingham city centre will have to carry out an Environmental Impact Assessment (EIA) on its scheme.
Earlier this month, Code Students submitted a scoping request which outlined its plans to build a 40-storey skyscraper, called Victoria Works, behind the Victoria Shopping Centre in Nottingham which would house 1,546 students.
Now, Nottingham City Council says an EIA will needed as part of the planning application.
The aim of an EIA is to protect the environment by ensuring that a local planning authority when deciding whether to grant planning permission for a project, which is likely to have significant effects on the environment, does so in the full knowledge of the likely significant effects, and takes this into account in the decision making process.
An EIA is also used to ensure that the public are given "early and effective" opportunities to participate in the decision making procedures, according to Government guidelines.
A letter to Nottingham City Council drafted by law firm Howes Percival dated February 11 lays out why an EIA would not be needed for the scheme, saying: "It is considered that potential impacts of the development can be suitably assessed through a series of technical reports that would accompany the planning application.
"These reports will provide a comprehensive assessment of the impacts arising from the proposed development and will allow the Council to make an informed assessment of the proposed development."
The letter points out the relatively small groundfloor footprint of the building, the fact that it is on previously developed land and the fact the proposed scheme is in a council-defined tall buildings zone.
Despite this, Nottingham City Council has ordered that an EIA be carried out before it will make any decision on whether Victoria Works should go ahead.
Code Students has schemes in Leicester and Coventy and is currently building Sheffield's tallest building.
The Nottingham skyscraper is being designed by Leicester-based Staniforth Architects.
Images show that the building would dwarf the adjacent Victoria Centre flats – which are currently the city's tallest building.