Nottingham could be 'Silicon Valley of the Midlands', says business leader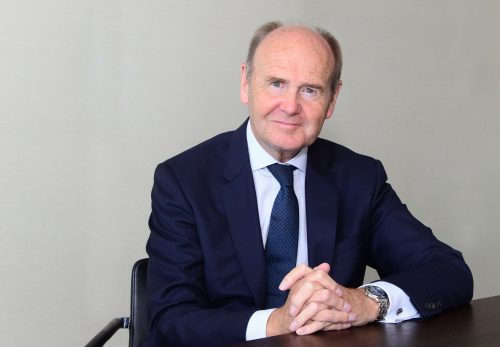 The business leader who played a central role in the development of one of Nottingham's key digital industries says the city has the potential to develop into a Silicon Valley of the Midlands.
Sir John Peace was part of the team whose work transferring paper credit records on to computer databases in the 1970s led to the birth of the business which later became Experian – today a global leader in information services.
Now chairman of the Midlands Engine, the public-private partnership which promotes investment across the region, Peace spoke out at the launch of Scale Space Nottingham, a new destination for scale-up businesses which mixes workspace with access to specialist expertise in innovation and business growth.
He said: "Nottingham is an ideal location for an initiative like Scale Space and its launch here is timely.
"At a time of change, the region needs to work harder to promote its strengths – its national significance in life sciences and a strength in tech which could be developed into a Silicon Valley of the Midlands.
"It makes sense to cluster like-minded people and businesses, and to help them grow by levering the knowledge capital of Nottingham's two excellent universities. This ecosystem is going to become critically important as the impact of the pandemic plays out."
He added: "Initiatives which bring those elements together are therefore particularly important because they can be a source of growth and competitive advantage. From a Midlands Engine perspective, I therefore view this as a fantastic opportunity."
The online launch of Scale Space Nottingham was attended by some of the most senior stakeholders in the city, with Peace joined by representatives from both of the city's universities, Nottingham City Council, the D2N2 Local Enterprise Partnership, Nottingham Creative Quarter and Marketing Nottingham.
Sir John Peace is set to make a keynote speech at TheBusinessDesk.com's Invest Midlands conference on May 26. Tickets for this landmark event are now available.
Scale Space was launched last year in White City, west London, in a partnership between Blenheim Chalcot, the venture builder, and Imperial College London, a global top 10 university specialising in science, technology, engineering, medicine and business.
It combines flexible workspace suited to innovative scale-up businesses with a portfolio of membership benefits built around access to ideas and expertise.
Nottingham is home to the first regional Scale Space on Wollaton Street – a move which CEO Mark Sanders says reflects the fact that the city has a vibrant cluster of businesses built around data, technology and analysis.
He told the launch event: "Whilst the UK is third globally for start-ups, it's outside the top 10 for scaling them up into SME growth businesses. Scale Space offers an environment which is tailored to overcome that problem by creating a community with access to the people, the services and the space to help innovation thrive.
"It does this by bringing innovation expertise from businesses and academia together, encouraging learning from both applied research and commercial enterprise. We now want to work with stakeholders across the city to bring the right support and benefits to businesses that have the capacity to grow, create jobs and boost the economy."
John Anderson, director of Financial Strategy at Imperial College London, said their partnership with Blenheim Chalcot had led to a new model for workspace which enabled an academic institution to engage directly with an entrepreneurial community.
"Scale Space is a concept that needs to be seen in other locations outside London," he said. "Nottingham is an obvious choice because of the quality of its universities and its track record in science, innovation and industrial development over many decades."
The Midlands Engine has identified strengthening links between universities and businesses as a route to driving innovation, productivity and competitive advantage across key sectors of the region's economy.
Margaret Monkcton, chief financial officer at the University of Nottingham, said the city's strong track record in academic research was a key asset, but it had to work harder to provide opportunities which would help retain more graduate talent in the city.
She told the event: "There are plenty of examples and opportunities where we deliver joined-up impact – locations like BioCity and the University of Nottingham Innovation Park, and initiatives such as Universities for Nottingham where we work with Nottingham Trent University. So an initiative like Scale Space, which helps develop scale-up skills and innovation, is exactly the kind of thing the city needs."
Blenheim Chalcot partner Mark Onyett said business investment was now back on the horizon, with Nottingham in a key position to capitalise on new ways of working.
He concluded: "We are coming out of Covid, there will be new ways of working and there is a desire to get back to human-to-human interaction. Scale Space can be a catalyst and we have a brilliant eco system to support innovative growth, which has proven itself in both tech and life-sciences. We could also see more national interest in the region because of the emergence of the Freeport plan.
"Blenheim Chalcot is excited to be part of Scale Space and we will pursue collaboration which drives momentum in Nottingham."