Developer behind £200m office scheme 'disappointed' by council response to plans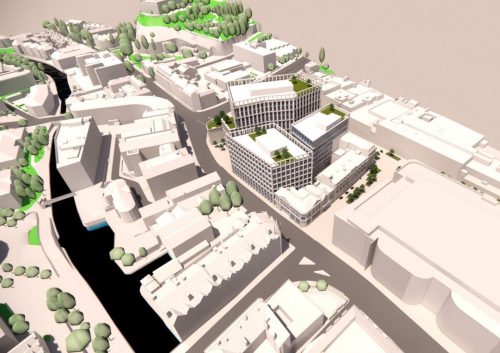 The developer behind a proposed £200m office development in Nottingham city centre has tole TheBusinessDesk.com that it is "disappointed" that the scheme has been given a decidedly cool response by the city council.
A joint venture between Sladen Estates and Peveril Securities was revealed earlier this week. The 400,000 sq ft office-based scheme could bring forward 5,000 jobs, according to the developers.
However, on Tuesday evening, Nottingham City Council issued a statement saying that the proposed scheme, called New Albion Place, was a "unilateral decision" by the developers.
A statement provided by Nottingham City Council said: "This is a proposal unilaterally put forward by a developer for land south of Collin Street that is not part of the former Broadmarsh shopping centre.
"No planning application has been submitted or considered in relation to the proposed development which is on land partly owned by the developer and partly by the City Council.
"Any proposed scheme on this land will be considered as part of the wider vision for the area, particularly focusing on the former Broadmarsh shopping centre footprint, which is currently being developed by the Greater Broad Marsh Advisory Group, an independent panel of local and national advisors established by the Council."
On Wednesday (April 14) Nick Sladen of Sladen Estates replied to the council, saying: "We are disappointed by the council's response which we believe is very short-sighted. In a city where property development is dominated by student accommodation schemes, we had hoped that an office scheme attracting £200 million of inward investment, hundreds of construction jobs and 5,000 high quality office jobs for local people would have been welcomed. Student schemes bring in no council tax or business rates to the city. By contrast our plans for offices would generate more than £4 million in business rates a year for the council at a al crucial time post Covid.
"While we are keen to see the regeneration of Broadmarsh, we are confident our much -needed office development would be a catalyst and not a hindrance to that. We are ready to go now, do not require any external funding or government support and believe that development on this scale would increase confidence in Nottingham as a place to relocate to and invest.
"The council says there is a big shortage of Grade A office accommodation and that large organisations looking for space are going to other cities because of the lack of suitable accommodation in Nottingham. Furthermore, the council's decision to no longer develop the old library site on Angel Row as office space and that it hasn't been able to build offices on Crocus Place, leaves Nottingham with a huge deficit in available office space. That means that national and regional organisations seeking space in the East Midlands are looking to Leicester and Derby instead.
"The bulk of the site included in our proposal is already owned or controlled by ourselves (Sladen Estates and Peveril Securities) and we have made an offer to buy the residual land in city council ownership so that redevelopment can proceed. However, the council has not responded to our offer.
"While hugely disappointing, as a company with significant cash reserves to invest, a track record which includes building the new Inland Revenue Offices by the station in Nottingham, and involvement in £600 million of projects elsewhere in the UK, we are not short of alternative development opportunities or local authorities willing and able to work on them with us."
The £200m plans include the redevelopment of two acres of land surrounded by Canal Street, Collin Street and Greyfriar Gate.