First images revealed of £30m investment in Nottingham Castle

Following its £30m redevelopment, the first images of Nottingham Castle and the new home of Robin Hood have been released to celebrate that the historic Ducal Palace and grounds will reopen on Monday 21 June.
The images, revealed by The Nottingham Castle Trust, hints at some of the activities and sights that visitors will get to experience this summer – including welcoming Robin Hood back to the city centre for the first time in over a decade.
Sara Blair-Manning, chief executive of Nottingham Castle Trust, said: "Nottingham Castle has been transformed into a world-class heritage site; this is a highly-anticipated moment for fans of the Robin Hood legend, as well as for anyone planning to make the most of time with friends and family this summer."
Blair Manning will exclusively reveal more about her plans for Nottingham Castle at our Invest Midlands online conference on May 26. Click here to book your tickets.
The three-year period of extensive redevelopment and conservation followed a major £30m investment from National Heritage Lottery Fund, Nottingham City Council, D2N2 and Arts Council England, plus fundraising by the Nottingham Castle Trust.
Anne Jenkins, director, England Midlands & East, National Lottery Heritage Fund: said: "Having stood, in part, for over 400 years, Nottingham Castle is a true symbol of resilience for the region. It is wonderful news that, thanks to players of the National Lottery, it will soon re-open as a beacon of pride and optimism as we move forward from the challenges of the past year. Its completion is testament to the significant investment and hard work from many people over many years. I am delighted that with its transformation almost complete it will open its gates to visitors from near and far as they explore and enjoy the rich cultural heritage of our region."
Nottingham City Council Portfolio Holder for Culture, Dave Trimble said: "I'm delighted that we can now look forward to re-opening the Castle gates this summer. It's been a challenging few years since we began to transform the site and despite the Covid pandemic, we've managed to complete the work on budget and on time. While it's been frustrating to have had to previously delay the reopening due to the Covid restrictions, we now have a firm date to plan ahead for.
"The transformation of Nottingham Castle will have a lasting impact on our City and its 1,000 years of history. It will bring new opportunities for jobs and volunteering, enhance tourism and boost the local economy as well as spearheading the wider regeneration of Nottingham City centre. As a world-class heritage attraction it will be something Nottingham people can be proud of."
Visitors can expect to enjoy the following highlights:
Permanent exhibitions celebrating legends and rebels throughout history
The new Castle experience features nine gallery and exhibition spaces inside the Ducal Palace.
The Mercian Gallery and Rebellion Gallery explore the fight for democracy, representation, and fairness while the creative galleries showcase a remarkable collection of fine and decorative art, including paintings, medieval alabaster sculptures, salt-glaze pottery, Nottingham Lace and much more.
In the Temporary Exhibitions space, visitors will see an ever-changing variety of must-see exhibitions and pioneering works from a range of international artists.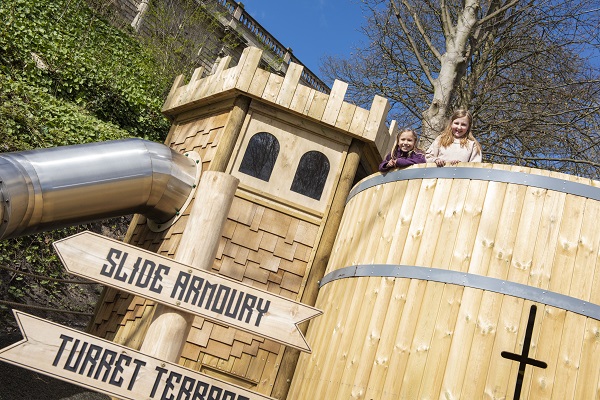 Hood's Hideout and other family-friendly activities
A brand-new outdoor family adventure playground, named Hood's Hideout, is set to be a popular part of the Castle grounds.
The naturally constructed playground, which has been built into the former Castle moat, is filled with tunnels, slides and rope bridges to emulate Robin Hood's Sherwood Forest hideout.
Outdoor trails and activities will also keep all ages happy and mean there is plenty to do during repeat visits.
Interactive displays to learn about Nottingham's "curious rebels"
Through the Castle Tunnel, visitors will get to learn more about Nottingham's legendary rebel at Robin Hood Adventures – even firing longbows in digital archery competitions and sparring with Little John in the depths of Sherwood Forest.
A unique heritage site situated in the middle of a busy city centre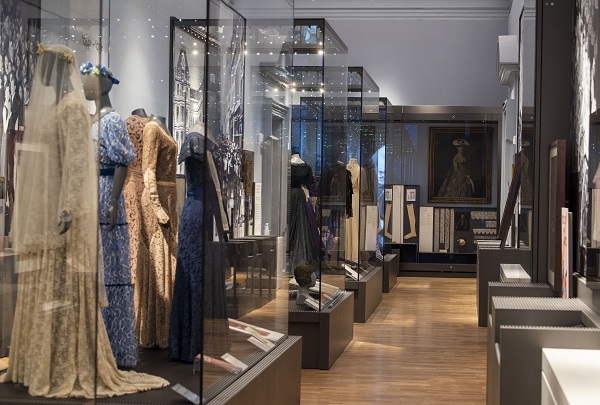 The site has international significance with 1,000 years of history to its name, on a site rich in archaeology and human interest. It is expected that it will welcome more than 300,000 visitors each year.
Its location in the centre of Nottingham makes it a convenient attraction for visitors, particularly those with young children, with easy access to hotels, parking and other attractions, including Sherwood Forest and the National Justice Museum.
The Ducal Palace is also home to the Terrace Café, offering panoramic views of the city alongside a themed, seasonal menu. A new state-of-the-art Visitor Centre has also been created which offers a coffee shop and the Castle Shop, selling a range of quality retail products and specialising in bespoke pieces made by local makers.
Sajeeda Rose, chief executive of D2N2 LEP, which has invested in £7m of funding into the redevelopment of Nottingham Castle, said: "We are excited to hear of the plans for re-opening the Nottingham Castle in June, which is an important destination within the City.
"The Visitor Economy is one of D2N2's key sectors and D2N2 LEP is proud to be involved as a funder and supporter on this project, helping to bring Nottingham's history and heritage to life and contributing towards the recovery of the city economy."
Peter Knott, Midlands Area director for Arts Council England, said: "It's fantastic to hear that Nottingham Castle will reopen in June following its redevelopment. As a key part of Nottingham's history and cultural scene we're really proud to have invested in the building work through our Capital programme.
"Following a challenging time for the cultural sector, it's great to see that Nottingham Castle is planning to offer a wide range of events and exhibitions, including welcoming Robin Hood back to the city centre for the first time in more than a decade. We look forward to the gallery and wider space fully reopening and welcoming back visitors soon."
All photos courtesy of Tracey Whitefoot