Nottingham developer signs deal with supermarket giant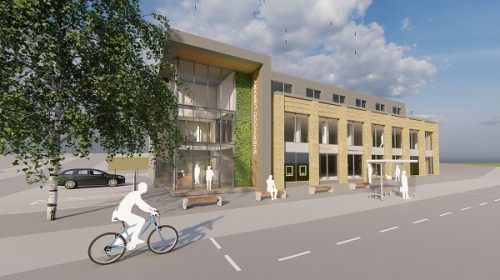 Nottingham-based Hockley developments has exchanged contracts with supermarket giant Sainsbury's for a long-term lease at its planned mixed-use scheme in the Sherwood area of the city.
The development received planning consent last month. It includes a new library, commercial unit, 29 apartments and 12 family houses. Sainsbury's will move into the ground floor unit on Mansfield Road.
Sainsbury's property director Patrick Dunne said: "This is a very exciting development and we're very pleased to announce our plans to open a new Sainsbury's Local in the heart of it. Our convenience store will give customers access to fresh, great value food alongside Sainsbury's renowned colleague service. This shop will provide residents with everyday essentials at their doorstep and the chance for workers, and visitors to get what they need as they go about their busy daily lives."
Hockley Developments architectural manager, Ewan Cassell, said: "We are delighted to have Sainsbury's on board for this landmark mixed use development in Sherwood. There is a lot of local excitement about this development, with family housing and apartments being built, as well as the new library and supermarket, and we look forward to getting started on site next month."