11,500 sq ft building bought from administrators sold ahead of asking price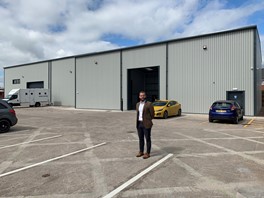 A building that was bought from administrators has been refurbished, let and sold in deal brokered by FHP Property Consultants.
The 11,500 sq ft industrial unit, on Daniels Way in Hucknall was initially bought by Rotherhill Developments from administrators of the previous owner. The company submitted a planning application to subdivide the existing building into a terrace of three smaller units and to deliver up to six new build business units within the yard area.
Following site clearance and partial demolition, FHP started marketing the site, with GEOAmey PECs coming forward as a single occupier. Rotherhill undertook a full refurbishment of the existing building and the creation of new first floor office accommodation and a warehouse extension. Following the works and lease completion, the investment was sold ahead of asking price.
Anthony Barrowcliffe of FHP Property Consultants said: "This was a fantastic instruction to work on from the start and shows how a plan can be executed. It demonstrates the continued demand for high quality industrial units and industrial investments.
"There remains significant unfulfilled occupational requirements in Hucknall, Linby, Basford, Bulwell and indeed the Greater Nottingham area. FHP would be delighted to speak with industrial property owners with vacant space and upcoming vacancies so that we can provide dedicated, site specific advice and deliver a strategy that maximises returns."
Ed Jeffrey of Rotherhill Developments added: "Our thanks go to FHP and Anthony for their assistance in securing GEOAmey as occupier and to Commercial Property Partners who acted jointly with FHP in the disposal of the investment.
"This project demonstrates Rotherhill's flexible approach, establishing a range of development options and then delivering based upon the interest received. We worked closely with GEOAmey to develop a high-specification building that future proofs their business and created an attractive investment product."